Top Ten Tuesday is a weekly meme brought to you at The Broke and the Bookish!! Each week we will be releasing a top ten book related list for you all to enjoy!
So it's freebie week and I figured why not go with my cover snobness! I love my covers and find I have a hard time not buying a book if the cover is gorgeous!! These are not in any order, just picked them out and put them up!!
Ten Most Beautiful Book Covers!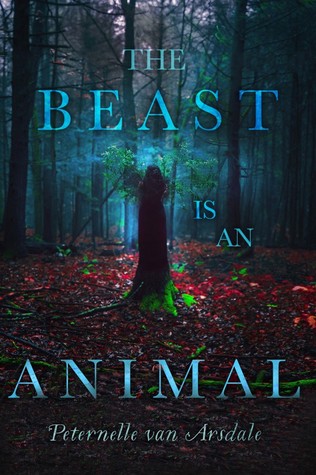 1. The Beast in an Animal
By Peternelle van Arsdale
A girl with a secret talent must save her village from the encroaching darkness in this haunting and deeply satisfying tale.

Alys was seven when the soul eaters came to her village.

These soul eaters, twin sisters who were abandoned by their father and slowly morphed into something not quite human, devour human souls. Alys, and all the other children, were spared—and they were sent to live in a neighboring village. There the devout people created a strict world where good and evil are as fundamental as the nursery rhymes children sing. Fear of the soul eaters—and of the Beast they believe guides them—rule village life. But the Beast is not what they think it is. And neither is Alys.

Inside, Alys feels connected to the soul eaters, and maybe even to the Beast itself. As she grows from a child to a teenager, she longs for the freedom of the forest. And she has a gift she can tell no one, for fear they will call her a witch. When disaster strikes, Alys finds herself on a journey to heal herself and her world. A journey that will take her through the darkest parts of the forest, where danger threatens her from the outside—and from within her own heart and soul.
2.
Sugar & Other Luxuries
By Everly Scott
Katherine Humphries wants to find the love of her life.

As a recovering perfectionist who hasn't been on a date in five years, finding love is harder than she thought. Faced with beginning her twenty-sixth year of life insecure and living in Los Angeles where men and women either ignore or insult her curvy existence, Katherine decides to make dating her bitch. She's not changing her curvy body. She won't put down the dessert. And she isn't going to apologize for any of it.

Her first night out ends nothing like she'd planned. When a flirty and rugged New Yorker asks for her phone number, Katherine freezes. She's ready to give up before heartbreak happens. That is, until she meets a polyamorous, fairy-godmother-wanna-be, Hunter. The self proclaimed Queen of Pleasure coaches Katherine on badass, dating etiquette. Hunter's first rule? Don't fall in love. The second rule? Perfection doesn't exist.

But when a bet with a sexy and sensitive music teacher changes her perspective on the dating game, Katherine learns that breaking badass rule #1 before loving every inch of herself might spell trouble. On the other hand, breaking rules might be exactly what Katherine needs to discover the true power of a woman's body, the sugary sweetness of indulgence, and whether saying yes to her dream life against the wishes of advice-slinging friends will lead to heartache or harmony.
3.
Wings
By Aprilynne Pike
Laurel was mesmerized, staring at the pale things with wide eyes. They were terrifyingly beautiful—too beautiful for words.

Laurel turned to the mirror again, her eyes on the hovering petals that floated beside her head. They looked almost like wings.

In this extraordinary tale of magic and intrigue, romance and danger, everything you thought you knew about faeries will be changed forever.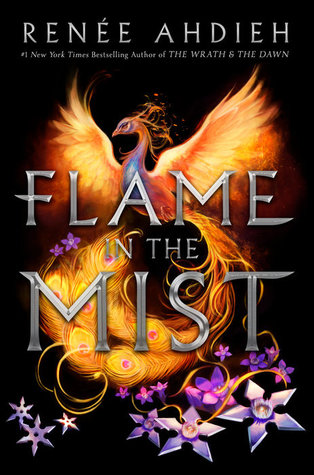 4.
Flame in the Mist
By Renee Ahdieh
The daughter of a prominent samurai, Mariko has long known her place—she may be an accomplished alchemist, whose cunning rivals that of her brother Kenshin, but because she is not a boy, her future has always been out of her hands. At just seventeen years old, Mariko is promised to Minamoto Raiden, the son of the emperor's favorite consort—a political marriage that will elevate her family's standing. But en route to the imperial city of Inako, Mariko narrowly escapes a bloody ambush by a dangerous gang of bandits known as the Black Clan, who she learns has been hired to kill her before she reaches the palace.

Dressed as a peasant boy, Mariko sets out to infiltrate the ranks of the Black Clan, determined to track down the person responsible for the target on her back. But she's quickly captured and taken to the Black Clan's secret hideout, where she meets their leader, the rebel ronin Takeda Ranmaru, and his second-in-command, his best friend Okami. Still believing her to be a boy, Ranmaru and Okami eventually warm to Mariko, impressed by her intellect and ingenuity. As Mariko gets closer to the Black Clan, she uncovers a dark history of secrets, of betrayal and murder, which will force her to question everything she's ever known.
By Mechthild Gläser
Amy Lennox doesn't know quite what to expect when she and her mother pick up and leave Germany for Scotland, heading to her mother's childhood home of Lennox House on the island of Stormsay.

Amy's grandmother, Lady Mairead, insists that Amy must read while she resides at Lennox House—but not in the usual way. It turns out that Amy is a book jumper, able to leap into a story and interact with the world inside. As thrilling as Amy's new power is, it also brings danger—someone is stealing from the books she visits, and that person may be after her life. Teaming up with fellow book jumper Will, Amy vows to get to the bottom of the thefts—at whatever the cost.
By Sophie Jordan
Seventeen years ago, an eclipse cloaked the kingdom of Relhok in perpetual darkness. In the chaos, an evil chancellor murdered the king and queen and seized their throne. Luna, Relhok's lost princess, has been hiding in a tower ever since. Luna's survival depends on the world believing she is dead.

But that doesn't stop Luna from wanting more. When she meets Fowler, a mysterious archer braving the woods outside her tower, Luna is drawn to him despite the risk. When the tower is attacked, Luna and Fowler escape together. But this world of darkness is more treacherous than Luna ever realized.

With every threat stacked against them, Luna and Fowler find solace in each other. But with secrets still unspoken between them, falling in love might be their most dangerous journey yet.
By Brigid Kemmerer
Juliet Young always writes letters to her mother, a world-traveling photojournalist. Even after her mother's death, she leaves letters at her grave. It's the only way Juliet can cope.

Declan Murphy isn't the sort of guy you want to cross. In the midst of his court-ordered community service at the local cemetery, he's trying to escape the demons of his past.

When Declan reads a haunting letter left beside a grave, he can't resist writing back. Soon, he's opening up to a perfect stranger, and their connection is immediate. But neither Declan nor Juliet knows that they're not actually strangers. When life at school interferes with their secret life of letters, sparks will fly as Juliet and Declan discover truths that might tear them apart.
By Jenniffer Wardell
Beast Charming tells the story of Beauty, who works as a temp at an agency run by a high-tempered dragon. To avoid running into her conniving and desperately-craving-for-nobility father—conveniently named Noble—she takes on a peculiar job that will force her to converse with a violent beast named, well, Beast. The rest of the story develops into a hysterical tale of a classic fairy tale romance gone modernly awry.
By Jennifer L. Armentrout
The Hematoi descend from the unions of gods and mortals, and the children of two Hematoi pure bloods have godlike powers. Children of Hematoi and mortals--well, not so much. Half-bloods only have two options: become trained Sentinels who hunt and kill daimons or become servants in the homes of the pures.

Seventeen-year-old Alexandria would rather risk her life fighting than waste it scrubbing toilets, but she may end up slumming it anyway. There are several rules that students at the Covenant must follow. Alex has problems with them all, but especially rule #1:Relationships between pures and halfs are forbidden. Unfortunately, she's crushing hard on the totally hot pure-blood Aiden. But falling for Aiden isn't her biggest problem--staying alive long enough to graduate the Covenant and become a Sentinel is.

If she fails in her duty, she faces a future worse than death or slavery: being turned into a daimon, and being hunted by Aiden. And that would kind of suck.
By Belle Malory

When sixteen-year-old Kennedy Mitchell is proclaimed the world's last keeper, she thinks it's a cruel joke. Come on- her? Impossible. She's no warrior. She isn't wise beyond her years, or more importantly, capable of keeping Earth safe.

Except...no one will listen. And since all evidence says otherwise, the job is hers whether she likes it or not.

During the highly demanding training regime that follows, Kennedy struggles to fit in with Earth's renowned protectors. Especially Phoenix Jorgensen, who openly despises her. Problem is, he may be the only one she can trust. The keepers have big secrets surrounding them. Secrets Kennedy isn't comfortable knowing, much less being apart of. With Phoenix's help, she'll have to find a way out.

Either that, or die trying.
_________________________________
Well, that's my list for the week! Hope you all enjoy!
Leave me your links below!