Top Ten Tuesday is a weekly meme brought to you at The Broke and the Bookish!! Each week we will be releasing a top ten book related list for you all to enjoy!
I know we all have this problem! We can't seem to read all the books we want to each year and lots of books sit on our TBR piles. I am going to try to read most of these this year though :)
Top Ten 2016 Releases I Meant to Read But Didn't Get Around To


1. Fantastic Beasts and Where to Find Them: The Original Screenplay
By J.K. Rowling
J.K. Rowling's screenwriting debut is captured in this exciting hardcover edition of the Fantastic Beasts and Where to Find Them screenplay.

When Magizoologist Newt Scamander arrives in New York, he intends his stay to be just a brief stopover. However, when his magical case is misplaced and some of Newt's fantastic beasts escape, it spells trouble for everyone…

Fantastic Beasts and Where to Find Them marks the screenwriting debut of J.K. Rowling, author of the beloved and internationally bestselling Harry Potter books. Featuring a cast of remarkable characters, this is epic, adventure-packed storytelling at its very best.

Whether an existing fan or new to the wizarding world, this is a perfect addition to any reader's bookshelf.
2.
Heartless
By Marissa Meyer
Catherine may be one of the most desired girls in Wonderland and a favorite of the unmarried King, but her interests lie elsewhere. A talented baker, she wants to open a shop and create delectable pastries. But for her mother, such a goal is unthinkable for a woman who could be a queen.

At a royal ball where Cath is expected to receive the King's marriage proposal, she meets handsome and mysterious Jest. For the first time, she feels the pull of true attraction. At the risk of offending the King and infuriating her parents, she and Jest enter into a secret courtship.

Cath is determined to choose her own destiny. But in a land thriving with magic, madness, and monsters, fate has other plans.
3.
All In Pieces
By Suzanne Young
"Anger-management issues."

That's how they classified Savannah Sutton after she stuck a pencil in her ex-boyfriend's hand because he mocked her little brother, Evan, for being disabled. That's why they sent her to Brooks Academy—an alternative high school that's used as a temporary detention center.

The days at Brooks are miserable, but at home, life is far more bleak. Savvy's struggling to take care of her brother since her mom left years ago, and her alcoholic dad can't be bothered. Life with Evan is a constant challenge, but he's also the most important person in the world to Savvy.

Then there's Cameron, a new student at Brooks with issues of his own, a guy from a perfect family that Savvy thought only existed on TV. Cameron seems determined to break through every one of the walls Savvy's built around herself—except if she lets herself trust him, it could make everything she's worked so hard for fall apart in an instant.

And with her aunt seeking custody of her brother and her ex-boyfriend seeking revenge, Savvy's fighting to hold all the pieces together. But she's not sure how much tighter she can be pulled before she breaks completely.
4.
Paper Princess
By Erin Watt
From strip clubs and truck stops to southern coast mansions and prep schools, one girl tries to stay true to herself.

These Royals will ruin you…

Ella Harper is a survivor—a pragmatic optimist. She's spent her whole life moving from town to town with her flighty mother, struggling to make ends meet and believing that someday she'll climb out of the gutter. After her mother's death, Ella is truly alone.

Until Callum Royal appears, plucking Ella out of poverty and tossing her into his posh mansion among his five sons who all hate her. Each Royal boy is more magnetic than the last, but none as captivating as Reed Royal, the boy who is determined to send her back to the slums she came from.

Reed doesn't want her. He says she doesn't belong with the Royals.

He might be right.

Wealth. Excess. Deception. It's like nothing Ella has ever experienced, and if she's going to survive her time in the Royal palace, she'll need to learn to issue her own Royal decrees.
By Leah Rae Miller
Dan Garrett has become exactly what he hates—popular. Until recently, he was just another live-action role-playing nerd on the lowest rung of the social ladder. Cue a massive growth spurt and an uncanny skill at taking three-point shots in basketball and voilà...Mr. Popular. It's definitely weird.

And the biggest drawback? Going from high school zero to basketball hero cost Dan the secret girl of his dorky dreams.

A band geek with an eclectic fashion sense, Zelda Potts's "coolness" stat is about minus forty-two. Dan turning his back on her and the rest of nerd-dom was brutal enough, but when he humiliates her at school, Zelda decides it's time for a little revenge—dork style. Never mind that she used to have a crush on him. Never mind that her plan could backfire big time.

It's time to roll the dice...and hope like freakin' hell she doesn't lose her heart in the process.
By Cassandra Clare
In a kingdom by the sea…

In a secret world where half-angel warriors are sworn to fight demons, parabatai is a sacred word.

A parabatai is your partner in battle. A parabatai is your best friend. Parabatai can be everything to each other—but they can never fall in love.

Emma Carstairs is a warrior, a Shadowhunter, and the best in her generation. She lives for battle. Shoulder to shoulder with her parabatai, Julian Blackthorn, she patrols the streets of Los Angeles, where vampires party on the Sunset Strip, and faeries—the most powerful of supernatural creatures—teeter on the edge of open war with Shadowhunters. When the bodies of humans and faeries turn up murdered in the same way Emma's parents were when she was a child, an uneasy alliance is formed. This is Emma's chance for revenge—and Julian's chance to get back his brother Mark, who is being held prisoner by the faerie Courts. All Emma, Mark, and Julian have to do is solve the murders within two weeks…and before the murderer targets them.

Their search takes Emma from sea caves full of sorcery to a dark lottery where death is dispensed. And each clue she unravels uncovers more secrets. What has Julian been hiding from her all these years? Why does Shadowhunter Law forbid parabatai to fall in love? Who really killed her parents—and can she bear to know the truth?
By Jenny Colgan
Nina Redmond is a literary matchmaker. Pairing a reader with that perfect book is her passion… and also her job. Or at least it was. Until yesterday, she was a librarian in the hectic city. But now the job she loved is no more.

Determined to make a new life for herself, Nina moves to a sleepy village many miles away. There she buys a van and transforms it into a bookmobile—a mobile bookshop that she drives from neighborhood to neighborhood, changing one life after another with the power of storytelling.

From helping her grumpy landlord deliver a lamb, to sharing picnics with a charming train conductor who serenades her with poetry, Nina discovers there's plenty of adventure, magic, and soul in a place that's beginning to feel like home… a place where she just might be able to write her own happy ending.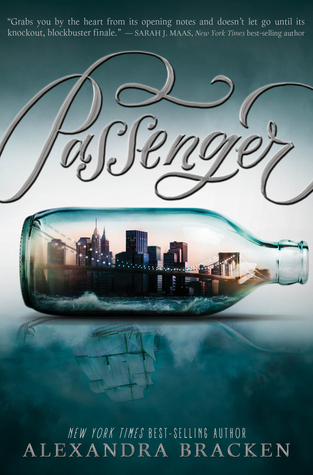 By Alexandra Bracken
Passage, n.
i. A brief section of music composed of a series of notes and flourishes.
ii. A journey by water; a voyage.
iii. The transition from one place to another, across space and time.

In one devastating night, violin prodigy Etta Spencer loses everything she knows and loves. Thrust into an unfamiliar world by a stranger with a dangerous agenda, Etta is certain of only one thing: she has traveled not just miles but years from home. And she's inherited a legacy she knows nothing about from a family whose existence she's never heard of. Until now.

Nicholas Carter is content with his life at sea, free from the Ironwoods—a powerful family in the colonies—and the servitude he's known at their hands. But with the arrival of an unusual passenger on his ship comes the insistent pull of the past that he can't escape and the family that won't let him go so easily. Now the Ironwoods are searching for a stolen object of untold value, one they believe only Etta, Nicholas' passenger, can find. In order to protect her, he must ensure she brings it back to them—whether she wants to or not.

Together, Etta and Nicholas embark on a perilous journey across centuries and continents, piecing together clues left behind by the traveler who will do anything to keep the object out of the Ironwoods' grasp. But as they get closer to the truth of their search, and the deadly game the Ironwoods are playing, treacherous forces threaten to separate Etta not only from Nicholas but from her path home... forever.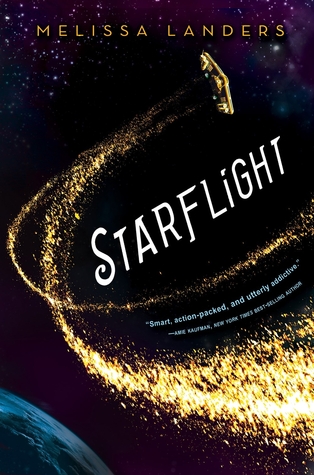 By Melissa Landers
Life in the outer realm is a lawless, dirty, hard existence, and Solara Brooks is hungry for it. Just out of the orphanage, she needs a fresh start in a place where nobody cares about the engine grease beneath her fingernails or the felony tattoos across her knuckles. She's so desperate to reach the realm that she's willing to indenture herself to Doran Spaulding, the rich and popular quarterback who made her life miserable all through high school, in exchange for passage aboard the spaceliner Zenith.

When a twist of fate lands them instead on the Banshee, a vessel of dubious repute, Doran learns he's been framed on Earth for conspiracy. As he pursues a set of mysterious coordinates rumored to hold the key to clearing his name, he and Solara must get past their enmity to work together and evade those out for their arrest. Life on the Banshee may be tumultuous, but as Solara and Doran are forced to question everything they once believed about their world—and each other—the ship becomes home, and the eccentric crew family. But what Solara and Doran discover on the mysterious Planet X has the power to not only alter their lives, but the existence of everyone in the universe...
By Mary Weber
Nym and Draewulf prepare to face off in a battle destined to destroy more lives than it saves.

With the loss of Tulla still fresh in mind, Rasha's fate unknown, and Lord Myles taken over by the dark ability, Nym and the few Bron soldiers rush to warn Cashlin's queen. Only to discover it may already be too late for the monarch and her eerie kingdom. As the Luminescents are sifting through Nym's past memories and the queen is reading into her future, Nym is given a choice of how to defeat Draewulf, but the cost may be more than she can bear. And even then there are no guarantees.

With that reality burrowing into her bones—along with the guilt of the lives she will sacrifice—Nym returns to her homeland of Faelen to raise an army of peasants through promises of freedom. But when the few friends she has left, along with the world and citizens she loves, are staring down the face of a monster and his undead army, will Nym summon every element her blood is capable of controlling . . . or surrender to a different strength—one of sacrifice?

Because in the end, death may be more merciful for them all.
_________________________________
Well, that's my list for the week! Hope you all enjoy!
Leave me your links below!