Stacking the Shelves is a weekly meme hosted by Tynga's Reviews!
___________________________________________________
This seems to be a weekly thing for me now! I can't stop snatching up freebie books! My poor kindle TBR is getting so big but I can't help it! All these books sound so good!!
___________________________________________________
Sugar Kisses
Addison Moore

Kindle/Nook-Free!


|

Goodreads

|

Amazon |

Barnes and Noble |



Roxy Capwell couldn't be more miserable. She just had her heart stomped on by her cheating boyfriend, and the last thing she's looking for is love. She hates men.

Cole Brighton couldn't be happier. He's a player of the highest order, there's not a girl at Whitney Briggs University that he can't tag and bag. He loves the ladies.

Roxy's dream is to own and operate her own bakery one day, but with no oven in her dorm, and a lucrative baking competition on the horizon, she agrees to move in with her best friend's brother, the obnoxious, womanizing, Cole Brighton.

Between the heavenly scent of baked goods, and Roxy's perfect body strutting around the apartment, Cole can't think straight. So when Roxy's ex starts sniffing around again, Cole volunteers to play the part of her new boy-toy and things get heated both in and out of the kitchen.

Roxy discovers she might not hate every man on the planet, and Cole discovers nothing tastes better than Roxy and her late night SUGAR KISSES.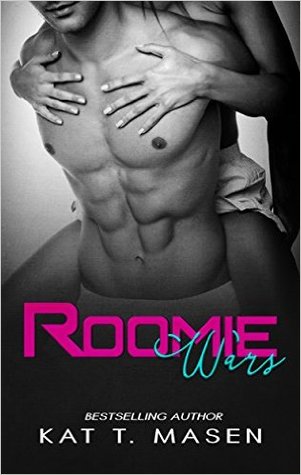 Roomie Wars
Kat T. Masen

Kindle/Nook - Free!



|

Goodreads

|

Amazon | Barnes and Noble |



Zoey

Turning thirty is overrated. Who said you had to be married with a fabulous career and three kids? I had a great life. Single, freedom to do whatever I please, and best of all, stay home on a Friday night in my sweats, eating pizza while listening to the best of the '80s.

I'm fine.

Drew

When a woman says she's fine, she's not fine. Zoey had it all. Stunning looks, ambition, the whole package. Then he fucked her up. He broke her.

And now I'm left picking up the pieces…again.

Zoey Richards, strong-willed and driven, settled on the geeky struggling med student to share her apartment with, not the perfect-in-every-way stud who would just distract her and undoubtedly break her heart.

When her ex comes back into the picture, Zoey seeks revenge and enlists her roommate's help. All Zoey and Drew need to do is pretend to be a couple for one night. But one night can change everything. Refusing to break their "roomie code," and in an effort to deny their feelings for each other, a war erupts between Zoey and Drew.

She lives in the past; he, for the future. If opposites attract, will these two gamble their friendship for a chance at love?
Inception
Bianca Scardoni

Kindle-Free!



|

Goodreads

|

Amazon

|



Be careful who you trust, for even the Devil was once an Angel.

My name is Jemma Blackburn, and I have a secret. I know vampires are real. I watched one murder my father eight months ago, and even though they tried to convince me it didn't happen—that I'd lost touch with reality due to the trauma, I know what I saw was real.

Hollow Hills is now the place I call home. It was supposed to be my chance at a normal life. My chance to bury my secret and start over. But everyone around me is keeping their own secrets, whispering lies into my ears like promises, and one of them is about to turn my entire world upside down.

I thought I had it all figured out. I thought I had the answers. I thought I knew who I was. The truth is, I didn't even know the half of it. There's a reason these vampires are still after me. There's a reason they will always hunt me. Because I'm not human.

I'm the devil they fear and the angel they crave.
Only problem is, I don't know it yet.
Fated Souls Box Set
Dean Murray, Nancy Straight, Charlotte Abel, Lisa Wiedmeier, Kellie McAllen, Rachel Medhurst, Allie Burton, Jess Haines, Kelly Oram, Shannon Dermott

Kindle/Nook-Free!



|

Goodreads

|

Amazon | Barnes and Noble |



Shapeshifters, mermaids, angels, centaurs, and more come together in a ten-book collection that is equal parts romance and action. Featuring books from some of the best paranormal romance and urban fantasy writers working in the genre today, Fated Souls has something for nearly every reader and will serve as a gateway to books that have collectively received thousands of 4- and 5-star reviews. Available for a limited time, so grab your copy now!

Hunted by Dean Murray
Adri is about to develop a unique power that will thrust her into a shadowy world filled by preternatural creatures who want to use her for their own ends or barring that, kill her to keep her out of someone else's hands.

At home, at school, even in her own dreams—nobody is who and what they say they are, and her time is running out. The only thing she knows for sure is that if she doesn't trust anyone, then she's as good as dead.

Blood Debt by Nancy Straight
Cami lost the only person in her life - her mom. Daring to find other family, what she found was. . . a blood debt - owed to a stranger. Can Cami escape her mother's past and find her own future?

River's Recruit by Charlotte Abel
Jonathan lost everything in Afghanistan… his identical twin, his left hand and his will to survive. He seeks solitude and healing in the Colorado wilderness, but finds a beautiful young woman dressed in buckskin, armed with a primitive bow and stone-tipped arrows.

River has two choices… Convince the handsome trespasser to join her secret society of wolf-shifters, or kill him.

Cheyenne by Lisa Wiedmeier
Murder, romance, secrets and hidden pasts. Deception from every angle—who's telling the truth?

Discerning Spirits by Kellie McAllen
To fulfill his destiny, he'll have to uncover hers.

Zeph is half angel, half human, and a total disappointment.

Eve is an intriguing mystery that Zeph can't resist trying to unravel.

Together, can they open each other's eyes to their incredible destiny?

Pisces by Rachel Medhurst
Pisces has to achieve her life mission.

To unite with her twin flame soulmate.

Antony's her bodyguard, not her one true love.

Or, is he?

Atlantis Riptide by Allie Burton
Pearl ran away from the circus tired of her adoptive parents' abuse of her special skills. Unknown to her, a battle rages under the ocean and each side wants to use her powers for their cause. As Pearl discovers her talents she must choose her destiny – whether to ignore the churning seas or swim into battle.

Smoke and Mirrors by Jess Haines
A girl who uses her illusions to fool the world into thinking she's just like all the other magi.

A dragon who sees through her lies.

Together they just might survive a world that wants to control or destroy them both.

Chameleon by Kelly Oram
Dani's life is turned upside-down the day she discovers that the supernatural world exists, and that she's more deeply connected to it than she ever could have dreamed. With the emergence of new and unique powers, she finds herself up to her neck in ancient prophecies, soul mates, and oh yeah, she's just been tasked with saving the world!

Beg for Mercy by Shannon Dermott
Everyone dreams of that first kiss.
Deception

Stacy Claflin




Kindle/Nook-Free!


What if your whole life was a lie?

Alexis Ferguson thinks she has everything figured out, but has no idea how wrong she is. Set up on a blind date, she meets a gorgeous stranger and feels that she's known him her entire life, but she has never seen him before.

He awakens in her long-forgotten dark memories, and now she must face the one who ordered her death years ago. Will she learn to use her strange new powers in time to save herself? Will she let him help her? Should she trust him?
Fledgling
Natasha Brown

Kindle/Nook-Free!



|

Goodreads

|

Amazon | Barnes and Noble |



Set apart from other eighteen year olds, Ana Hughes knows she is different. A life threatening heart condition smothers her future and she yearns to feel normal. Her hopes are pinned on a fresh start in a remote town far from her native Colorado. Among the locker filled hallways in Clark Bend High, Ana keeps to the shadows, not wanting to draw attention to her violet tinged lips and wilted silhouette. And she almost succeeds, until she meets Chance Morgan.

Struggling to keep up appearances, she soon suspects Chance is hiding something as well. His animal-like senses, miraculous healing ability and peculiar reaction to her Thunderbird necklace compels Ana to question if there's more to the stories about his Navajo ancestry. Without any other explanation, she fears he is playing tricks on her. But the truth may prove too much for Ana's delicate heart…
The Changelings
Elle Casey




Kindle/Nook-Free!


Jayne Sparks, a potty-mouthed, rebellious seventeen-year-old and her best friend, shy and bookish Tony Green, have a pretty typical high school existence, until several seemingly unrelated incidents converge, causing a cascade of events that change their lives forever. Jayne and Tony, together with a group of runaway teens, are hijacked and sent into a forest, where nothing and no one are as they seem. Who will emerge triumphant? And what will they be when they do?
Awaken
Skye Malone

Kindle/Nook - Free!



|

Goodreads

|

Amazon | Barnes and Noble |



Running away from home was never Chloe Kowalski's plan. Neither was ending up the target of killers, or having her body change in unusual ways. She only wanted a vacation, someplace far from her crazy parents and their irrational fear of water. She only wanted to do something normal for once, and maybe get to know her best friend's hot stepbrother a bit better at the same time.

But the first day she goes out on the ocean, strange things start to happen. Dangerous things that should be impossible. Things to which 'normal' doesn't even begin to apply.

Now madmen are hunting her. A mysterious guy with glowing blue eyes is following her. And her best friend's stepbrother seems to be hiding secrets all his own.

It was supposed to be a vacation. It's turning out to be a whole lot more.
Falling for my Best Friend
Hazel Kelly

Kindle/Nook-Free!


|

Goodreads

|

Amazon |

Barnes and Noble |



The Fated Series is now complete! This is book 1 of 5.

Lucy and Aiden have been friends since they were kids. Best friends. And they'll never be anything more.

Or at least, that's what Lucy keeps telling herself...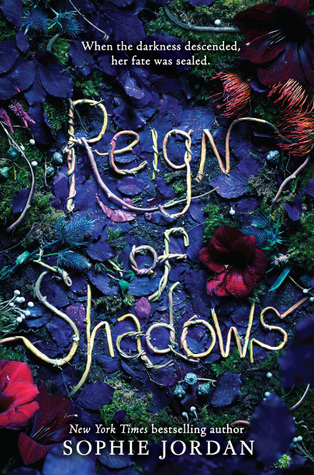 Reign of Shadows
Sophie Jordan

Kindle/Nook - $1.99



|

Goodreads

|

Amazon | Barnes and Noble |



Seventeen years ago, an eclipse cloaked the kingdom of Relhok in perpetual darkness. In the chaos, an evil chancellor murdered the king and queen and seized their throne. Luna, Relhok's lost princess, has been hiding in a tower ever since. Luna's survival depends on the world believing she is dead.

But that doesn't stop Luna from wanting more. When she meets Fowler, a mysterious archer braving the woods outside her tower, Luna is drawn to him despite the risk. When the tower is attacked, Luna and Fowler escape together. But this world of darkness is more treacherous than Luna ever realized.

With every threat stacked against them, Luna and Fowler find solace in each other. But with secrets still unspoken between them, falling in love might be their most dangerous journey yet.

With lush writing and a star–crossed romance, Reign of Shadows is Sophie Jordan at her best.
The Vixen and the Vet (Beauty and The Beast)
Katy Regnery

Kindle/Nook-Free!


|

Goodreads

|

Amazon |

Barnes and Noble |



In this modern-retelling of Beauty and the Beast, Savannah Carmichael, betrayed by an unreliable source, returns to her hometown of Danvers, Virginia with her once-promising journalism career in ruins. Given the opportunity to get back in the game by writing a patriotic human interest piece, Savannah turns her attention to the town hermit, Asher Lee, a wounded veteran who returned to Danvers eight years ago, and hasn't been seen since.

After an IED explosion in Afghanistan took Asher's hand and disfigured half of his face, he's lived a quiet life on the outskirts of Danvers where the locals respect his privacy…that is, until Savannah Carmichael comes calling in a borrowed sundress with a plate of homemade brownies. When Asher agrees to be interviewed by Savannah, he starts feeling things for the beautiful reporter that he hasn't felt in years.

Misfits in small-town Danvers, Savannah and Asher create a bond right away, touching each other's hearts in ways neither thought possible. When a terrible mistake threatens to drive them apart, they'll have to decide if the love they found in one another's arms is strong enough to fight for their hard-won happily ever after.
Fire in the Woods
Jennifer M. Eaton

Kindle-$3.03/Nook-$3.99



|

Goodreads

|

Amazon | Barnes and Noble |



When a plane crashes in the woods near Jess's home, the boy of her dreams falls out of the sky—literally.

But David's not here to find a girlfriend. He's from another planet, and if Jess can't help him get back to his ship, he'll be stuck on Earth with nothing to look forward to but the pointy end of a dissection scalpel. But her father runs their house like an army barracks. and with an alien on the loose, Major Dad isn't too keen on the idea of Jess going anywhere.

Ever.

So how the heck is she supposed to help the sweetest, strangest, and cutest guy she's ever met? Hiding him in her room probably isn't the best idea. Especially since her Dad is in charge of the squadron searching for David.

That doesn't mean she won't do it.

It just means she can't get caught. Helping David get home while protecting her heart—that's gonna be the hard part.

After all, she can't really fall for a guy whose not exactly from here. As they race through the woods with Major Dad and most of the U.S. military one breath behind them, Jess and David grow closer than either of them anticipated. But all is not what it seems. David has a genocide-sized secret, and one betrayal later, they are both in handcuffs as alien warships are positioning themselves around the globe. Time is ticking down to Armageddon, and Jess must think fast if she's to save the boy she cares about without sacrificing Earth—and everyone on it.
_____________________________________
That's all I got this week!!