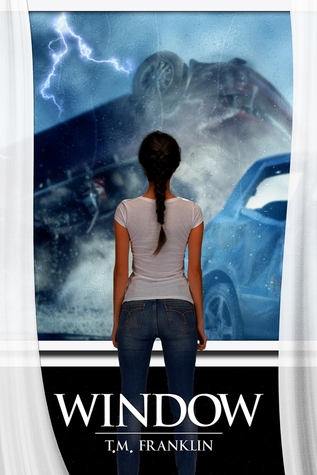 Window
Release Date:
Ma

rch 13, 2013
Publisher:
Self-Published
Synopsis:



A mysterious house. An old journal. A dusty chest holding more than secrets.

Each talisman found in the chest grants the chosen a gift, a unique ability. But with that power comes a burden—the duty of The Order.

Something is coming.

Something evil.

And it's up to The Order to stop it.

WINDOW, Now EPISODE 1 of The Talisman Chronicles

Chloe Blake has a unique gift, an odd connection to her house that results in glimpses of the past, present, and future via the picture window in her living room. Unfortunately, it's a gift that sometimes proves to be more of a curse. Especially when she tries to help out Ethan Reynolds, the gorgeous boy who lives across the street – an endeavor that, for some reason, always seems to backfire. Or leave her covered in mud.

But the house is convinced Ethan's life is in danger and Chloe's the only one who can save him. The problem is, he thinks she's more than a little crazy.
My Review:
I wasn't sure what to think of this book. It is actually a book that I usually wouldn't pick up. The author emailed me to tell me that she was releasing this book in a series called the Talisman Chronicles and was seeing if I was interested in joining the tours for the books and review the books. Since I have read and loved her books before, I couldn't say no. I'm glad I didn't.

This book was a very quick read since it is very small. I laid down and finished it in a couple hours and can't wait to get the next book. Even though it is short, you still get sucked into the characters and want to see what happens next.

I've never read a book before that talks about seeing the past, present, and future through a window but the author does it right. She makes it seem realistic and leaves you with lots of little hints of what is to come.

Chloe seems like a wonderful girl with a good head on her shoulders. She follows her heart, even when it makes her lose people in her life. I love that about her. She is head strong but sweet and smart at the same time.

Ethan grew on me. At first he comes across as a jerk, but I am sure the author did that on purpose. He comes more to his own as the book progresses and you get to see him for who he really is. I can't wait to learn more about him in the following books of this series.

This was a great paranormal read that is good for any gender or age, anyone can get sucked into this story. I can't wait to get the other books so I can keep reading and figure out what ends up happening to all the characters I got to meet.