Here I am with my monthly TBR list!!
I figured for the new year I would start doing these posts again. I will eventually start pulling some books out of my TBR jars as well, but this month I have soooooooo many review books that I don't think I will be able to read anything else. If I get lucky I might be able to, but I won't even consider it until I know for sure! A goal of mine for the year is to back off the review books so I can enjoy the ones that have been on my shelf for a long time and feel neglected! I will get all the review books on my list done in the next couple months then make my shelves happy to be read again!

Here is what I plan to read this month! :)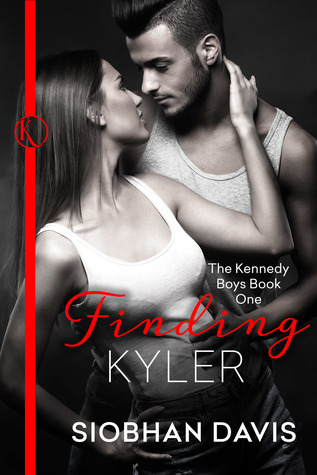 Finding Kyler




by Siobhan Davis



| Goodreads | Amazon |

Two fractured hearts and a forbidden love they can't deny.

You shouldn't want what you can't have…

Faye Donovan has lost everything. After her parent's tragic death, she's whisked away from her home in Ireland when an unknown uncle surfaces as her new guardian.

Dropped smack-dab into the All-American dream, Faye should feel grateful. Except living with her wealthy uncle, his fashion-empire-owning wife, and their seven screwed-up sons is quickly turning into a nightmare—especially when certain inappropriate feelings arise.

Kyler Kennedy makes her head hurt and her heart race, but he's her cousin.

He's off limits.

And he's not exactly welcoming—Kyler is ignorant, moody, and downright cruel at times—but Faye sees behind the mask he wears, recognizing a kindred spirit.

Kyler has sworn off girls, yet Faye gets under his skin. The more he pushes her away, the more he's drawn to her, but acting on those feelings risks a crap-ton of prejudice, and any whiff of scandal could damage the precious Kennedy brand.

Concealing their feelings seems like the only choice.

But when everyone has something to hide, a secret is a very dangerous thing.
Swords and Stilettos
by Kristin D. Van Risseghem

| Goodreads | Amazon | Barnes and Noble |

Zoe Jabril needs to devise a kick-ass plan to save the world ASAP. Otherwise, Armageddon starts the day she turns eighteen—and if that happens, everything is going to hell. Literally.

She could be any other 17-year-old attending parties and checking out cute guys—except she discovers her best friend is a Guardian Angel and the boy she crushes on is a Nephilim, both sent to protect her from the demons who want her dead.

Now Zoe has to deal with growing feelings toward the Nephilim, who spreads a strange electrical current through her body every time he touches her. And she's under constant attack from Demons, trying to stop her from fulfilling the Prophecy: a girl will be born who will unite Angels, Nephilim, Fairies and Werewolves to battle evil. Then she has to control newly found talents if she's to prevent the devil from escaping Hell.
Eerie
by C.M. McCoy

| Goodreads | Amazon | Barnes and Noble |

Hailey Hartley has just enrolled in the world's premier supernatural university. It's a school she's never heard of, located in a town called The Middle of Nowhere, and run by a creature that's not supposed to exist. But at least she got a scholarship...

Hailey's dreams have always been, well...vivid. As in monsters from her nightmares follow her into her waking life vivid. When her big sister goes missing, eighteen-year-old Hailey finds only one place offers her answers--a paranormal university in Alaska. There, she studies the science of the supernatural and must learn to live with a roommate from Hell, survive her otherworldly classes, and hope the only creature who can save her from the evil immortal who took her sister doesn't decide to kill her himself.
Sugar & Other Luxuries


by Everly Scott



| Goodreads | Amazon | Barnes and Noble |

Katherine Humphries wants to find the love of her life.

As a recovering perfectionist who hasn't been on a date in five years, finding love is harder than she thought. Faced with beginning her twenty-sixth year of life insecure and living in Los Angeles where men and women either ignore or insult her curvy existence, Katherine decides to make dating her bitch. She's not changing her curvy body. She won't put down the dessert. And she isn't going to apologize for any of it.

Her first night out ends nothing like she'd planned. When a flirty and rugged New Yorker asks for her phone number, Katherine freezes. She's ready to give up before heartbreak happens. That is, until she meets a polyamorous, fairy-godmother-wanna-be, Hunter. The self proclaimed Queen of Pleasure coaches Katherine on badass, dating etiquette. Hunter's first rule? Don't fall in love. The second rule? Perfection doesn't exist.

But when a bet with a sexy and sensitive music teacher changes her perspective on the dating game, Katherine learns that breaking badass rule #1 before loving every inch of herself might spell trouble. On the other hand, breaking rules might be exactly what Katherine needs to discover the true power of a woman's body, the sugary sweetness of indulgence, and whether saying yes to her dream life against the wishes of advice-slinging friends will lead to heartache or harmony.
The Billionaire's Package
by

Kyle Autumn



| Goodreads |

Shiree
One day, I'm doing my job and minding my own business...

Okay. Maybe sitting behind the desk of the richest, most powerful man in our city isn't considered minding my own business. But I'm only here because I'm doing my job. That part is true.

I'm a package handler at National Express, and today, I have a package for Mr. Charles Masters, billionaire and CEO of Launchpad Systems, biggest tech company in the nation. And, when I'm caught red-handed getting a little too comfortable behind his desk, he looks at me like he wants me to handle his package.

It's too bad he turns out to be a pompous caveman.

Except he's an incredibly hot pompous caveman. And I can't stop thinking about him.

I can't wait to tell my girls about this at the next Thirsty Thursday...

-------------------

Chaz
The board of the company I built from the ground up doesn't approve of the way I'm living my life. In fact, they don't just disapprove—they want me to change.

Their plan is to throw me a fake engagement party to show the world I'm a changed "family man" now. And my right-hand man sends that plan spiraling out of control when he sends the local package delivery woman into my office.

It's too bad she turns out to be so sensitive and unresponsive to my charm.

Except she's incredibly sexy when she's upset. And I have to make things right.

Maybe the board was right about this "family man" stuff after all...
It's You




by

Katy Regnery



| Goodreads | Amazon | Barnes and Noble |

ONCE UPON A TIME...
the most beautiful boy in the world kissed me.
I've never been able to forget.
Perhaps it was his jet-black hair,
or the changing copper-color of his eyes,
the intense way he looked at me...
or the fact that he awakened my passion for the first time,
at once otherworldly yet heartbreakingly real.

After that kiss, I never saw him again.

His name was Jack Beauloup.
Jack, my "Beautiful Wolf."

Twenty years passed.
He has returned.
For me.

**********

Jack Beauloup and Darcy Turner share one, perfect kiss in high school before he vanishes from sleepy Carlisle, NH without a trace.

Twenty years later, Darcy, who has never forgotten Jack, is shocked when he suddenly appears as a guest at her cousin's wedding. Their attraction to one another is just as searing as it was in high school, but immediately there are a landslide of questions that need answers. Where did he go? Why did he disappear? And what made him return?

As they find their way back to each other, they will discover that the secrets Jack holds are enough to bind them for life, or rip them apart forever.


_________________________________________
What are you planning on reading this month??