Favorite Character Friday is a weekly meme hosted by
Adria's Romance Reviews
that gives readers a chance to celebrate their favorite characters!
Why a weekly meme? Because really, with millions of books out there and more coming out every week, characters are like potato chips, you can't have just one.
How it works:
Every week you pick one of your favorite characters and tell every one who it is, what book they're from and WHY they're one of your favorite characters. Be sure to include the blurb and book cover as well! Share the love and maybe someone will read that same book and see why that character is one of your favorites! Unlike the Book Boyfriend meme (which was a great meme), your Favorite Character Fridays choice can be male or female!
Severus Snape
Harry Potter Series by J.K. Rowling (AKA The Queen)
Why is this character your favorite (Feel free to include a favorite quote or scene)?
Snape!! I love him as a character. I know there is a lot of people out there that don't, but I feel like he was very misunderstood. He was put into Slytherin and into a house that became known as the evil one. He watched the love of his life fall in love with someone else and got into a bad spot with Voldemort. He had to look at Harry everyday and see a reminder of what he lost but also feel like he had to save him from anything he could for Lily. I know this was a battle within himself because the pain was so strong. I feel like I understand him and that he was "siriusly" the bravest for all that he did. I will forever love Snape and have a place for him in my heart!!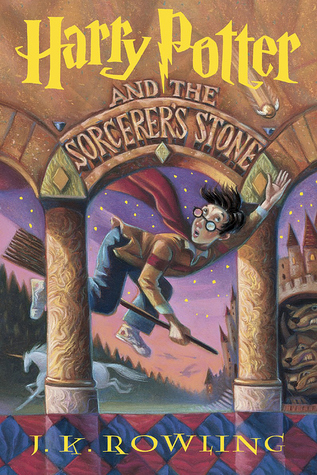 Synopsis:

Harry Potter's life is miserable. His parents are dead and he's stuck with his heartless relatives, who force him to live in a tiny closet under the stairs. But his fortune changes when he receives a letter that tells him the truth about himself: he's a wizard. A mysterious visitor rescues him from his relatives and takes him to his new home, Hogwarts School of Witchcraft and Wizardry.

After a lifetime of bottling up his magical powers, Harry finally feels like a normal kid. But even within the Wizarding community, he is special. He is the boy who lived: the only person to have ever survived a killing curse inflicted by the evil Lord Voldemort, who launched a brutal takeover of the Wizarding world, only to vanish after failing to kill Harry.

Though Harry's first year at Hogwarts is the best of his life, not everything is perfect. There is a dangerous secret object hidden within the castle walls, and Harry believes it's his responsibility to prevent it from falling into evil hands. But doing so will bring him into contact with forces more terrifying than he ever could have imagined.