I took advantage of the eBook sale as well as the 10 dollars off 25 dollars worth of books on Amazon! I had to show off what I got :)
Kiss of Fire and Eyes of Ember are both free right now on Amazon! Go check them out!
___________________________________________________
Hardcopies
Fantastic Beasts and Where to Find Them: The Original Screenplay
JK Rowling



|

Goodreads

|

Amazon |

Book Depository |



J.K. Rowling's screenwriting debut is captured in this exciting hardcover edition of the Fantastic Beasts and Where to Find Them screenplay.

When Magizoologist Newt Scamander arrives in New York, he intends his stay to be just a brief stopover. However, when his magical case is misplaced and some of Newt's fantastic beasts escape, it spells trouble for everyone…

Fantastic Beasts and Where to Find Them marks the screenwriting debut of J.K. Rowling, author of the beloved and internationally bestselling Harry Potter books. Featuring a cast of remarkable characters, this is epic, adventure-packed storytelling at its very best.

Whether an existing fan or new to the wizarding world, this is a perfect addition to any reader's bookshelf.
Deep Dish
Mary Kay Andrews



|

Goodreads

|

Amazon | Book Depository |



"Deep Dish is one delicious read. Mary Kay Andrews has cooked up a tale y'all will savor to the last bite. " —Paula Deen

Battling TV chefs—a handsome Georgia redneck and a struggling young professional woman—find themselves competing for a coveted weekly time slot on national television in Mary Kay Andrews's delightful New York Times bestseller Deep Dish. The incomparable Mary Kay offers heaping portions of humor, heart, and sass that fans of Fannie Flagg, Jennifer Crusie, Adriana Trigiani, Emily Giffin, and the Sweet Potato Queens simply will not be able to resist, as the winner-take-all cooking competition gets intense, especially when love ups the ante.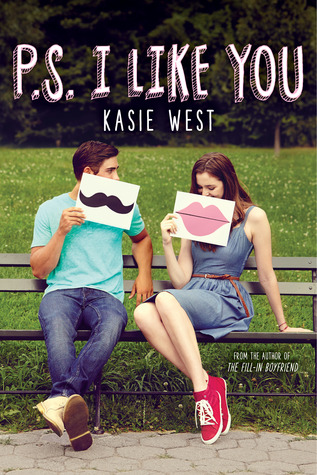 P.S. I Like You
Kasie West



|

Goodreads

|

Amazon |

Book Depository |



Signed, sealed, delivered…

While spacing out in chemistry class, Lily scribbles some of her favorite song lyrics onto her desk. The next day, she finds that someone has continued the lyrics on the desk and added a message to her. Intrigue!

Soon, Lily and her anonymous pen pal are exchanging full-on letters—sharing secrets, recommending bands, and opening up to each other. Lily realizes she's kind of falling for this letter writer. Only, who is he? As Lily attempts to unravel the mystery and juggle school, friends, crushes, and her crazy family, she discovers that matters of the heart can't always be spelled out…
The Parisian Christmas Bake Off
Jenny Oliver



|

Goodreads

|

Amazon | Book Depository |



Welcome to the most celebrated patisserie competition in Paris – ready, steady, bake!

Watching snowflakes settle on the Eiffel Tower, Rachel Smithson's cosy English village feels very far way – as, thankfully, does her commitment-phobic ex, probably already kissing someone else under the mistletoe. But Rachel hasn't come to Paris to mope she's come to bake. Hard.

Because the search for Paris's next patisserie apprentice is about to begin! And super-chef judge Henri Salernes is an infamously tough cookie. But Rachel isn't about to let her confidence (or pastry) crumble. She's got one week, mounds of melt-in-the-mouth macaroons and towers of perfect profiteroles to prove that she really is a star baker.

As well as clouds of flour, and wafts of chocolate and cinnamon, there's definitely a touch of Christmas magic in the air… Rachel hasn't come to Paris looking for a fairy-tale romance, but the city of love might gift-wrap her one anyway…

Not even a dusting of icing sugar could make The Parisian Christmas Bake-Off a more perfect Christmas treat!
Kiss of Fire (The Imdalind Series Book #1)
Rebecca Ethington



|

Goodreads

|

Amazon

|



Joclyn Despain has been marred by a brand on her skin. She doesn't know why the mark appeared on her neck, but she doesn't want anyone to see it, including her best friend Ryland, who knows everything else about her. The scar is the reason she hides herself behind baggy clothes, and won't let the idea of kissing Ryland enter her mind, no matter how much she wants to.

The scar is the reason she is being hunted.

If only she knew that she was.

If only she had known that the cursed stone her estranged father sent for her 16th birthday would trigger a change in her. Now, she is being stalked by a tall blonde man, and is miraculously throwing her high school bully ten feet in the air.

Joclyn attempts to find some answers and the courage to follow her heart. When Ryland finds her scar; only he knows what it means, and who will kill her because of it.
Eyes of Ember (The Imdalind Series Book #2)
Rebecca Ethington



|

Goodreads

|

Amazon

|



Joclyn is in hiding, hunted by the man she still desperately loves. Ryland is gone, his mind erased, no memory of Joclyn remains. But, Joclyn's heart desperately begs her to hold out hope. While, in reality the black eyed monster that possesses him, attempts to kill her over and over.

If it wasn't for Ilyan, Joclyn would be dead by now.

Ilyan. The man who once stalked her, is now Joclyn's protector, the only thing she has left. He protects Joclyn from the men who seek to end her life, and while she is haunted by dreams where Ryland begs her to break the bond between them.

Ilyan is there. Always there.

Ilyan trains and prepares her, teaching her everything she needs to know in the hope that one day she can avenge Ryland, if not protect herself from him.

And then there is her father.

The man who has never been there, is suddenly responsible for everything. And who he is has made Joclyn into something she never wanted to be.

The Silnỳ.
The Loveliest Chocolate Shop in Paris
Jenny Colgan



|

Goodreads

|

Amazon | Book Depository |



Life is sweet in this heartwarming tale of a little chocolate shop in Paris, by the bestselling author of Welcome to Rosie Hopkins' Sweetshop of Dreams and Meet Me at the Cupcake Cafe.

Mouth-watering recipes inside!

As dawn breaks over the Pont Neuf, and the cobbled alleyways of Paris come to life, Anna Trent is already awake and at work; mixing and stirring the finest, smoothest, richest chocolate; made entirely by hand, it is sold to the grandes dames of Paris.

It's a huge shift from the chocolate factory she worked in at home in the north of England. But when an accident changed everything, Anna was thrown back in touch with her French teacher, Claire, who offered her the chance of a lifetime - to work in Paris with her former sweetheart, Thierry, a master chocolatier.

With old wounds about to be uncovered and healed, Anna is set to discover more about real chocolate - and herself - than she ever dreamed.
Meet Me at the Cupcake Cafe
Jenny Colgan



|

Goodreads

|

Amazon | Book Depository |



Come and meet Issy Randall, proud owner of The Cupcake Café.

Issy Randall can bake. No, more than that - Issy can create stunning, mouth-wateringly divine cakes. After a childhood spent in her beloved Grampa Joe's bakery, she has undoubtedly inherited his talent.

When she's made redundant from her safe but dull City job, Issy decides to seize the moment. Armed with recipes from Grampa, and with her best friends and local bank manager fighting her corner, The Cupcake Café opens its doors. But Issy has absolutely no idea what she's let herself in for. It will take all her courage - and confectionery - to avert disaster . . .
Secrets & Shadows: Paranormal Romance, Urban Fantasy, and Science Fiction Collection
Kelly St. Clare, Siobhan Davis, Angela Fristoe, DelSheree Gladden, Laxmi Hariharan, Melissa Eskue Ousley, Kristin D. Van Risseghem, Rhonda Sermon, Susan Stec, Sophie Davis



|

Goodreads

|

Amazon

|



The Secrets and Shadows Boxed Set is a compilation of TEN not to be missed Young Adult Paranormal, Fantasy and Science Fiction full-length novels that will have you turning the pages faster than ever before.

Packed with fairies, witches, shifters, ghosts, space soldiers, aliens, deadly magic, gritty dystopian worlds, complicated relationships, and the ultimate swoon worthy love interests, follow ten badass heroines with remarkable powers and gifts as they face extraordinary challenges and decisions with potentially deadly consequences. They will stop at nothing to protect everyone and everything they love. They are fierce!

With over a million words and more than 700 combined four and five star reviews, this is your ultimate young adult collection of mesmerizing paranormal, action-packed urban fantasy, enthralling time travel, gripping dystopian and captivating space operas from 10 Award Winning, New York Times, USA Today, and International Bestselling authors!

Check out this epic line up and secure your Limited Edition copy today!

The Ghost Host - DelSheree Gladden
Everyone thinks Echo Simmons is crazy, but being The Ghost Host isn't just a YouTube hoax like people think. It's the only way to control the ghosts haunting her…at least until the FBI shows up asking questions.

Waken - Angela Fristoe
The people of Everod have been waiting for Janie and if she hopes to survive she'll need to confront who and what she really is.

The Midnight Society - Rhonda Sermon
Witness protection has a protocol for every threat - except magic.

The Other F Word - Susan Stec
Even with wings you can't fly away from fate.

Chosen - Laxmi Hariharan
His family is being held to ransom by a deadly mastermind.

Sunset Empire - Melissa Eskue Ousley
She may be guilty of arson, but she didn't kill the burned girl haunting her. When Elyse is haunted by vengeful ghost lurking in the tunnels under Astoria, she discovers her family may be responsible for a fire that nearly destroyed the city, as well as mysterious disappearances spanning hundreds of years. Helping her uncover the truth is Phantom, a boy with a hidden weapon and a dark heritage of his own, that could turn him from friend to hunter.

The Retreat - Kelly St. Clare
Earth was ruined. Humankind destroyed. And it's old news.

Swords & Stilettos - Kristin D. Van Risseghem
Seventeen-year-old Zoe must devise a kickass plan to thwart evil or watch the world burn.

Saven Deception - Siobhan Davis
The truth doesn't always set you free... In a futuristic undersea city, Sadie falls hard for captivating Logan - only to discover he comes from another world! Romance and intrigue combine in this addictive page-turner.

Talented - Sophie Davis
As an exceptionally powerful mental manipulator, seventeen-year-old Talia Lyons can read and control the thoughts of others. In Talented, the first book of her epic story, Talia inhabits a pounding, siren-ready world as she trains to become a highly specialized covert operative.
_____________________________________
That's all I got this week!!