I got lots of review copies this week! Gonna be a busy couple of months for me to get all of the ones I already have read as well as the ones I just got! Oh well! It's books!!
___________________________________________________
Review Copies
Sugar and Other Luxuries
Everly Scott



|

Goodreads

|

Amazon |

Book Depository |



Katherine Humphries wants to find the love of her life.

As a recovering perfectionist who hasn't been on a date in five years, finding love is harder than she thought. Faced with beginning her twenty-sixth year of life insecure and living in Los Angeles where men and women either ignore or insult her curvy existence, Katherine decides to make dating her bitch. She's not changing her curvy body. She won't put down the dessert. And she isn't going to apologize for any of it.

Her first night out ends nothing like she'd planned. When a flirty and rugged New Yorker asks for her phone number, Katherine freezes. She's ready to give up before heartbreak happens. That is, until she meets a polyamorous, fairy-godmother-wanna-be, Hunter. The self proclaimed Queen of Pleasure coaches Katherine on badass, dating etiquette. Hunter's first rule? Don't fall in love. The second rule? Perfection doesn't exist.

But when a bet with a sexy and sensitive music teacher changes her perspective on the dating game, Katherine learns that breaking badass rule #1 before loving every inch of herself might spell trouble. On the other hand, breaking rules might be exactly what Katherine needs to discover the true power of a woman's body, the sugary sweetness of indulgence, and whether saying yes to her dream life against the wishes of advice-slinging friends will lead to heartache or harmony.
The Billionaire's Package
Kyle Autumn



|

Goodreads

|



Shiree
One day, I'm doing my job and minding my own business...

Okay. Maybe sitting behind the desk of the richest, most powerful man in our city isn't considered minding my own business. But I'm only here because I'm doing my job. That part is true.

I'm a package handler at National Express, and today, I have a package for Mr. Charles Masters, billionaire and CEO of Launchpad Systems, biggest tech company in the nation. And, when I'm caught red-handed getting a little too comfortable behind his desk, he looks at me like he wants me to handle his package.

It's too bad he turns out to be a pompous caveman.

Except he's an incredibly hot pompous caveman. And I can't stop thinking about him.

I can't wait to tell my girls about this at the next Thirsty Thursday...

-------------------

Chaz
The board of the company I built from the ground up doesn't approve of the way I'm living my life. In fact, they don't just disapprove—they want me to change.

Their plan is to throw me a fake engagement party to show the world I'm a changed "family man" now. And my right-hand man sends that plan spiraling out of control when he sends the local package delivery woman into my office.

It's too bad she turns out to be so sensitive and unresponsive to my charm.

Except she's incredibly sexy when she's upset. And I have to make things right.

Maybe the board was right about this "family man" stuff after all...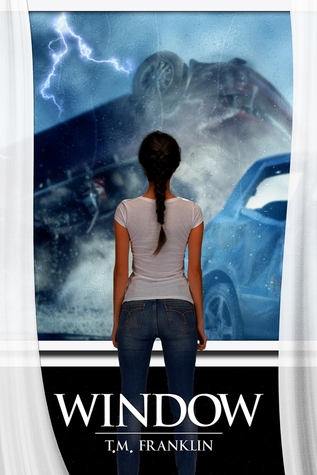 Window
T.M. Franklin



|

Goodreads

|

Amazon

|



A mysterious house. An old journal. A dusty chest holding more than secrets.

Each talisman found in the chest grants the chosen a gift, a unique ability. But with that power comes a burden—the duty of The Order.

Something is coming.

Something evil.

And it's up to The Order to stop it.
It's You
Katy Regnery



|

Goodreads

|

Amazon

|



ONCE UPON A TIME...
the most beautiful boy in the world kissed me.
I've never been able to forget.
Perhaps it was his jet-black hair,
or the changing copper-color of his eyes,
the intense way he looked at me...
or the fact that he awakened my passion for the first time,
at once otherworldly yet heartbreakingly real.

After that kiss, I never saw him again.

His name was Jack Beauloup.
Jack, my "Beautiful Wolf."

Twenty years passed.
He has returned.
For me.

**********

Jack Beauloup and Darcy Turner share one, perfect kiss in high school before he vanishes from sleepy Carlisle, NH without a trace.

Twenty years later, Darcy, who has never forgotten Jack, is shocked when he suddenly appears as a guest at her cousin's wedding. Their attraction to one another is just as searing as it was in high school, but immediately there are a landslide of questions that need answers. Where did he go? Why did he disappear? And what made him return?

As they find their way back to each other, they will discover that the secrets Jack holds are enough to bind them for life, or rip them apart forever.
Me Tarzan, You Jane
Camelia Miron Skiba



|

Goodreads

|

Amazon

|



Moving on doesn't always have to mean goodbye.

Widowed makeup artist Jane Sullivan is more comfortable keeping her husband's memory alive than dating a pool full of sharks. Ella, her 4 year-old daughter, is her whole world.

When Jane meets Lucas Oliver, famous cover model, it's hate at first sight. His playboy persona rubs her the wrong way.

Accustomed to every woman fawning over him, Lucas is drawn to the shy, uncompromising single mom and completely melts at the sight of Ella. He is determined to convince Jane that sometimes a second chance can mend a broken heart.
Hitched (Complete Series)
Kendall Ryan



|

Goodreads

|

Amazon

|



I have to get my wife pregnant. I know what you're thinking, boo hoo, poor me, right?

The only problem is my darling wife hates my guts. The only reason we eloped was because our fathers, who are business partners, are jointly leaving us their $100 billion company. If we wed.

And she doesn't know this part yet, but it's contingent on us producing an heir.

I have 90 days to knock her up, which might be difficult considering she can't stand to be in the same room as me, let alone share my bed.

Challenge accepted.

Mark my words, I will have her begging for me. I've never backed down from a challenge and

I'm not about to start now.
_____________________________________
That's all I got this week!!