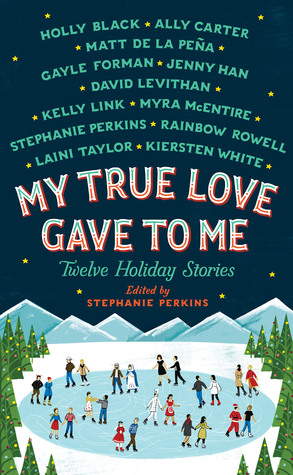 My True Love Gave To Me
Author(s):
Holly Black, Ally Carter, Matt De La Pena, Gayle For

man, Jenny Han, David Levithan, Kelly Link, Myra McEntire, Stephanie Perkins, Rainbow Rowell, Laini Taylor, Kiersten White
Release Date: Octo

ber

14th, 2014
Publisher:
St. Martin's Press
Rating: 3 out of 5 Stars
Synopsis:



If you love holiday stories, holiday movies, made-for-TV-holiday specials, holiday episodes of your favorite sitcoms and, especially, if you love holiday anthologies, you're going to fall in love with My True Love Gave To Me: Twelve Holiday Stories by twelve bestselling young adult writers, edited by international bestselling author Stephanie Perkins. Whether you enjoy celebrating Christmas or Hanukkah, Winter Solstice or New Year's there's something here for everyone. So curl up by the fireplace and get cozy. You have twelve reasons this season to stay indoors and fall in love.
My Review:
I have had this book on my shelf for about 2 years now. It was on sale at Books-A-Million and I had to have it. I mean the author list alone made me have to have it. With that said I was disappointed in the book.
I have read books by about half of the authors listed and their stories were nothing like what they usually write. I found myself to a point that I almost skipped some of the stories because I hated them.
With that out of the way, that doesn't mean I hated the whole book. The good thing about the book is there is several stories that were enjoyable. Like any short story they took a little bit to get into but by the ending you were sucked in and wishing for more.
I think some of the stories could have actually turned out to be full novels or at least novellas. They had good character development and a nice story line. Some of the other stories were just too all over the place and the characters felt like you were reading about a life-size cardboard cutout.
I overall enjoyed the book. With the stories I didn't like I kept telling myself that it was a short story and I would get a new chance on the next story coming up. I usually got rewarded with a good story after reading a bad one.
It was a cute read and got me enjoying the winter season we have upon us. Some had nice little messages in them, too. They ranged from contemporary to LGBT as well as paranormal mixed in. It was nice having the mix between all the stories and no two stories were anywhere close to the others. It was a breath of fresh air to have so much variety.
I decided I would list all the stories out by name and author and rate them individually.
Midnights by Rainbow Rowell- 💜💜💜
The Lady and the Fox by Kelly Link- 💜💜
Angels in the Snow by Matt De La Pena- 💜💜💜💜
Polaris is Where You'll Find Me by Jenny Han- 💜💜💜
It's a Yuletide Miracle, Charlie Brown by Stephanie Perkins- 💜💜💜
Krampuslauf by Holly Black- 💜💜💜💜
What the Hell Have You DOne, Sophie Roth? by Gayle Forman- 💜💜💜
Beer Buckets and Baby Jesus by Myra McEntire- 💜💜
Welcome to Christmas, CA by Kiersten White- 💜💜💜💜
Star of Bethlehem by Ally Carter- 💜💜💜
The Girl Who Woke the Dreamer by Laini Taylor- 💜💜💜