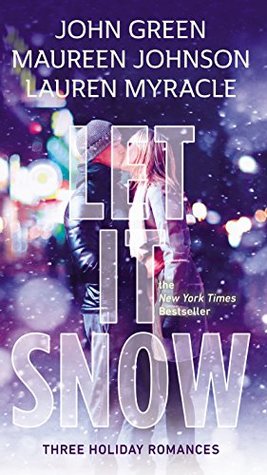 Let It Snow
Author:
John Green, Maureen Jo

hnson, Lauren Myracle
Release Date:
October 2, 2008
Synopsis:

Sparkling white snowdrifts, beautiful presents wrapped in ribbons, and multicolored lights glittering in the night through the falling snow. A Christmas Eve snowstorm transforms one small town into a romantic haven, the kind you see only in movies. Well, kinda. After all, a cold and wet hike from a stranded train through the middle of nowhere would not normally end with a delicious kiss from a charming stranger. And no one would think that a trip to the Waffle House through four feet of snow would lead to love with an old friend. Or that the way back to true love begins with a painfully early morning shift at Starbucks. Thanks to three of today's bestselling teen authors—John Green, Maureen Johnson, and Lauren Myracle—the magic of the holidays shines on these hilarious and charming interconnected tales of love, romance, and breathtaking kisses.

My Review:
This was such a cute and

snugly

read! I read another book before this with short stories so I was a little afraid to try this one. I'm so glad that

I decided to read it anyway!
All 3 of the books come together and at the end you get all the characters from all 3 stories into one place. I liked how even though the stories were written differently, the characters were different, you still were able to flow and follow each one separately but also as a whole. It made me happy to read in books 2 and 3 about Stuart in book 1. You also know how Stuart ended up and kind of wanted to yell at the other characters "THIS HAPPENED TO STUART". The shock of everyone as they came together at the end was wonderful and made me smile. They all got to see how each other ended up and I could tell and friendship might have been forming between all of them after they all met up at a Starbucks. I like to hope tha

t is what happened anyway :)
There are 3 stories in this set. It starts off with a story by Maureen Johnson. Her's was honestly my favorite of the 3. I loved Jubilee and Stuart. It was such a heartwarming story and she really sucks you into the book. I felt like Maureen put alot of love into her book and her characters show it. I felt closer to these 2 than any of the other characters put tog

ether.
The second story is by John Green. It follows JP, The Duke(Angie), and Tobin. This was a pretty hilarious one when it comes to what all they go through but the characters to me just kind of fell flat. I enjoyed the story but when I had a story like Maureen's before this one, it made it hard to love it as much. I still liked it and don't regret reading it and I don't think any

of you will either :)
The third and final story follows Addie and Jeb. It mainly is Addie but Jeb is mixed in a little more through Addie's memories. This story was sweet the way it turned out but Addie annoyed me quite a bit with her selfishness. It was very obvious the whole time but the way the story is, I am pretty sure the author wanted it that way. Again, I liked the story but Maureen's story killed the other 2. I did like how the author wrapped it all up and let us have all the characters in one place at the end. It was very pleasant to see how they all felt after the storm

.
I think anyone would love this book, especially to curl up to with some hot chocolate and a soft blanket. That is exactly what I did and it was the perfect setting. I have my Christmas tree lights on too, I think that is a must when reading Christmas books! If you get a chance to read this, I recommend it and hope it makes you as

merry as it made me!