My bestie, Kristalyn, over at
The Sarcastic Palmtree
started up this meme. She does it once a month and I always look forward to seeing what they come up with! She takes the ipods of herself as well as her kids and hubby and they do what it says above, they hit shuffle. They list down the songs that come up for all of us to see.
I know this is a book blog, but we can also have some fun here too :) I decided I wanted to be a part of it, and of course I got permission to do it along with them! To see Kristalyn's Shuffle,
Click Here
!!
Without further a do, TIME TO HIT SHUFFLE!!
Amber
Age -- Adult, 26 years old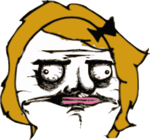 Favorite Music/Artists -- Blessid Union of Souls, Hootie and the Blowfish, One Direction, Savage Garden.
I listen to a bit of everything, but I love 90s music!!
Amber's Playlist
1. Wizard Love -- Meekakitty
2. Don't Drop That Thun Thun -- Finatticz
3. Wide Awake -- Katy Perry
4. Bless The Broken Road -- Rascal Flatts
5. You Rock My World -- Michael Jackson
6. Fake ID -- Big and Rich
7. Truly Madly Deeply -- Savage Garden
8. Moments -- One Direction
9. Hook -- Blues Traveler
10. Welcome to Atlanta -- Ludacris
__________________________________
There you all go!! Let me know what you have on your playlist!
See you again for March's Shuffle!!