Top Ten Tuesday is a weekly meme brought to you at The Broke and the Bookish!! Each week we will be releasing a top ten book related list for you all to enjoy!
No explanation is needed this week. It is all said below :)
These are not in any order!
Top Ten ALL TIME Favorite Authors


I came across Nikki thanks to Twitter. She looked up Oreos and milk due to her upcoming book release. I came up in the feed. She started to talk to me and tell me that my boyfriend reminded her of a boy in her book. We chatted back and forth a little bit. I then was sent an invite for a blog tour and it happened to be her book, American Girl on Saturn. I had to sign up for it. I wanted to know about this book that seems like my boyfriend. I was hooked. I became a Nikki fangirl right then and I have been ever since. I have read every book that she has ever published, well that I know of :) Now she has become someone I can consider a great friend. She has been there for me not only professionally, but personally. I am honored to have her as a friend and have the support that she has given me. I don't know if I would be anywhere close to where I am with my book if it wasn't for her.
I came across Julie because of The Iron Fey series. I LOVE Fae books and I had to get a hold of these. I ended up getting the boxed set of them and once my review pile went down, I was able to enjoy them. I fell in love with the characters and became a hardcore member on Team Ash. I haven't gotten the privilege to be able to talk to her, but I loved her work. When a book sticks with me for months and even years, I know it affected me well beyond most books are able to get me.
I am sure a lot of us will have this author on their list today. It is well deserved though. The amount of writing she did for this series is incredible. I just wrote my own book and I struggled to get the word count up. I can't believe how much she was able to write and have it flow so well. This is a book that has helped pull me out of some super dark times in my life. I don't think there is any other series that has made me a fan girl more than this one. I will be in debt to Rowling for the rest of my life with what she was able to help me through. When I am having a hard day, I pull out one of her movies to watch. When I need a little more help than that, I pull out the books all over again. I will be reading these books for the rest of my life.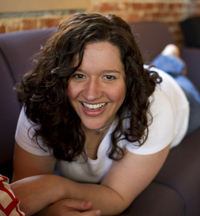 I have been in the Kiera Cass world since I first started my first blog back in 2008. She wrote a book called The Siren. I still own that book to this day. I don't know if she even sells that book anymore. She was self-published with that book. She personally asked me to read her book for her and put the review on my blog. We started talking back and forth and she was hilarious. She is such a wonderful person. We fell apart when I was forced to give up that blog. I had to give up the whole reading world completely. Her spirit has stuck with me this whole time, though. I have no since read her Selection series and I loved that one as well. It has a lot of hidden meaning put into it with a wonderful romance. I will read anything this girl puts out. Her personality and love for all her fans has given her that honor.
This is another author that I came across through a blog tour. Her book sounded interesting though it honestly wasn't something I would normally read. I felt drawn to it somehow anyway. I read it and fell in love. There is so much wonderfulness put into those pages. There is so much meaning put into it that you can't help but want to cry in spots. Goodbye to You is one of those books that I will keep in my heart forever. I have since gotten in touch with the author and we have became good friends. She has been supporting me through my book writing and I do the same for her. I have also read everything she has put out and I know I will keep that going as long as she keeps writing!
Emily is the sister of Nikki above. I felt they both deserved their own spot. Emily has the honor of making me cry in a book that was pretty short. One minute I don't know what is going on, then the next tears are streaming down my face in a heavy flow. Only three authors have made me cry in that way, and Emily gets to be one of those. She has written wonderful books. Each one has a touch of Paranormal, some more than others. She has also became a great friend of mine. She is my Disney Loving buddy. Anyone who loves Disney movies as much as I do is definitely worthy of my time.
I seem to be coming across a lot of these authors thanks to blog tours. This is another one of those authors. I even feel horrible of what I am about to say. I signed up for her tour for True Calling. I had no idea why. When I got the copy I had to force myself to read it. I was dreading it. Then I started to read it and I was hooked. I fell for the characters and the world of it all. She has made it flow so well that even though it is futuristic, you can still follow it perfectly fine. She put so much depth into her characters. Each and every one of them end up with a personality, even the ones that you barely see. I don't know how she did it, but she pulled it off well. I have since been a beta reader for her and love each and every one of her books. I get hangovers each time and can't wait for the next one to be put in my hands. We have also became friends thanks to her works and I also have her full support in my writing, too. I am proud to be part of her fanclub :)
Lindsay writes a lot of books with Hockey in them. I came across her thanks to Kristalyn. I have only been able to read a couple of hers so far due to my huge TBR pile but the ones I have read have been breathtaking. There is so much emotion put into each of the books and you get a good feel for each character. They feel like they are able to come out of the book at any moment.
I came across this author with her Wings series. I loved the cover. I thought it was one of the prettiest things I have ever seen. I would still have that cover in the top 3 book covers that I love. It is so simple yet says so much at the same time. She was the first author that I read that wrote about Fae. Her take is a lot different than the others, but she is what made me jump head first into the Fae world with no turning back. I will always have a special place in my heart for her books. She sucked me into that world and I don't know if I ever came back out.
This is another author that I have Kristalyn to thank for showing her to me. I got the whole Vampire Academy set from my boyfriend for my birthday. It was my first birthday being with him. We went to a city that was a couple hours away. I went into the Books-A-Million that was out there and was shocked with how cheap the set was. I got all 6 of the books, 2 of which were hardcover, for under 20 bucks. I put them on my shelf and they stayed there until Kristalyn. She started talking to me about them and talked me into reading them. Once I started the first book, I couldn't stop. I flew through all 6 of them and had one of the biggest book hangovers when I was done. I fell hard for Dimitri. He is my number 1 book boyfriend and I am sure she will hold that title for the rest of my life. I connected with him in a way that I haven't connected with any other boys in books. If you can make me love a character that much, you are worthy of my list!
_________________________________
Well, that's my list for the week! Hope you all enjoy!
Leave me your links below!