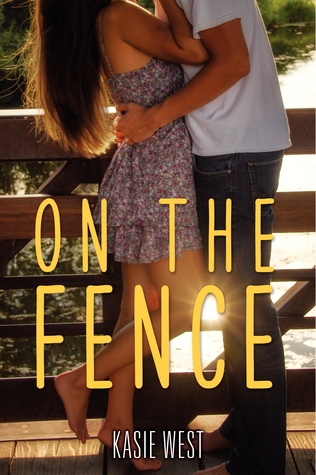 On the Fence
Author:
Kasie West
Release Date:
July 1st, 2014
Publisher:
Harper Teen
Rating:
5 out of 5 Stars
Pages:
293
Format:
Paperback, bought
|
Goodreads
| Amazon | Barnes and Noble |
Synopsis:

For sixteen-year-old Charlotte Reynolds, aka Charlie, being raised by a single dad and three older brothers has its perks. She can outrun, outscore, and outwit every boy she knows—including her longtime neighbor and honorary fourth brother, Braden. But when it comes to being a girl, Charlie doesn't know the first thing about anything. So when she starts working at chichi boutique to pay off a speeding ticket, she finds herself in a strange new world of makeup, lacy skirts, and BeDazzlers. Even stranger, she's spending time with a boy who has never seen her tear it up in a pickup game.

To cope with the stress of faking her way through this new reality, Charlie seeks late-night refuge in her backyard, talking out her problems with Braden by the fence that separates them. But their Fence Chats can't solve Charlie's biggest problem: she's falling for Braden. Hard. She knows what it means to go for the win, but if spilling her secret means losing him for good, the stakes just got too high.
My Review:
I bought this book when it first came out but it was sadly sitting on my shelf ever since. Granted it hasn't even been a full year sitting on there when some books have been there 5+ years, but I really wanted to read this book. I've just been so swamped with review books that I just wasn't able to get around to it yet. I was able to read all my review books before the year was over though so I could start the new year out on a clean slate.
For Christmas my wonderful boyfriend went to the book store to pick me out some books, he came across this one and said it sounded just like us growing up. He was in fact my Braden. I was shocked that he spent so much time reading the blurbs on the back. He did happen to look at my shelf and see that I already owned it but told me the story anyway and let me go trade it in for something else. It was still so sweet I knew it would have to be read in January.
This book was amazing. It reminded me so much of myself that I felt very connected to Charlie. I never worked in a clothing store or anything, but I still had 2 brothers that I played with all the time as well as my now boyfriend, TJ. We were always outside playing one sport or another that I too felt like one of the guys. I didn't think any guys would want to date me, so I was definitely shocked when I found out TJ has loved me since we were little. This book was just the same.
I really liked Braden as a character as well. He had a good personality to him and was a genuine guy. He wasn't a guy who acted like he had something to prove. He didn't come across as a guy who slept around a lot and used Charlie to become more good. He was a good guy and stayed that way through the whole book.
I think what made this book as fun as it was though, was the brothers. You have a lot of serious aspects coming from the aftermath of what happened to Charlie's mother. You also have her trying to sort out her feelings as well as Braden. The brothers were all goofy and gave it a fun feel to the book. It cut some of the harshness that arose from all the seriousness and gave it a comedic feel without being too off the book. It all worked together perfectly.
I sat down to read a few chapters before bed while I waited for my other half to get home. Needless to say, I devoured it in one sitting. I wasn't able to put it down so just decided to settle in for the long haul and knock it out.
The book is set around Charlie's house as well as the park to play some sports as well as her new job. It is very easy to follow. I enjoyed picture Charlie as well as her brothers and Braden.
I loved the love that is in this book. Not just a romance that blossoms in the story, but also the love between the brothers and Charlie. They love her so much and would do anything for her. You can feel all the emotions for everyone pour of the pages after each one you turn over. It has been a while since the actual emotions of the book were able to affect me so much, but this one definitely captivated me from the first chapter.
This book was so heartwarming, there is no way any one could put it down once they started. I can see this being good for younger readers as well as older. There is no sexual context throughout the book, so it is definitely safe for a younger audience. They can connect with the characters just as much. If you haven't read this book, I definitely think you need to go out and get your own copy ASAP!