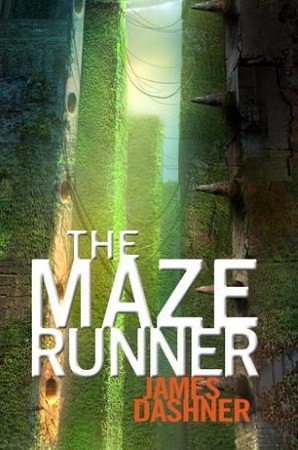 The Maze Runner
Author:
James Dashner
Release Date:
October 6th, 2009
Publisher:
Delacorte Press
Rating:
4 out of 5 Stars
Pages:
374
Format:
Paperback, bought
|
Goodreads
| Amazon | Barnes and Noble |
Synopsis:

If you ain't scared, you ain't human.

When Thomas wakes up in the lift, the only thing he can remember is his name. He's surrounded by strangers—boys whose memories are also gone.

Nice to meet ya, shank. Welcome to the Glade.

Outside the towering stone walls that surround the Glade is a limitless, ever-changing maze. It's the only way out—and no one's ever made it through alive.

Everything is going to change.

Then a girl arrives. The first girl ever. And the message she delivers is terrifying.

Remember. Survive. Run.
My Review:
I tend to have a fear of dystopians, I don't understand why exactly because I tend to really enjoy them once I finally get around to them, but I still take a while to pick one up. I have had this box set on my shelf for about 2 years now and finally got around to it. I devoured it and found the book to be rather captivating.
This book did start off a little slow for me. I almost put it down for a little while but decided against it since I really wanted to watch the movie. It just took a little while to get into the head of Thomas and wrap your brain around everything else at the same time. You got the confuse at full impact just like Thomas did. I think this was a smart move and showed how it started off slow for Thomas as well but then everything picked up pretty quick for him and had him scrambling to try to figure everything out before it was too late.
I liked Thomas. His temper got to me some times. I guess temper is the wrong word, stubborn confusion seems a bit more like I wanted to say. When he was confused he would start yelling out or say something super sarcastic to who ever he was plaguing answers from. He did have a good head on his shoulder and was able to help a great deal.
My favorite character though happens to be Newt. He just seemed wonderful from the start. He is definitely the guy you want on your side if you were gonna be stuck in the maze as well. He seemed to have a talent to calm down everyone when things were getting too out of hand.
The Characters were wonderful. He was able to tell you so much about each character even with less than a chapter dealing with each one. Some you only get a sentence or two about them but yet you can still see them clearly. They all had a different personality and brought the story to life. You got each of their emotions. It was refreshing to say the least.
I liked the amount of detail that Dashner was able to put into the story. Even though it was under 400 pages, he was able to pump it so full before 100 pages was even up. I was able to fully picture everything in the story including the vivid detail he gives you about the grievers. I am sure I could sit down and draw one out and have him say it looks just like what he feels they look like. This takes a great deal of talent to be able to pull off. He not only made it detailed, but he didn't make it seem like a text book or a lecture.
This is another one of those books that I wish I didn't wait so long to read. I need to get over my fear of dystopians and just finally accept that I love them and start reading more of them!
Maze Runner was a great book that I know I will be definitely be re-reading again in the future!