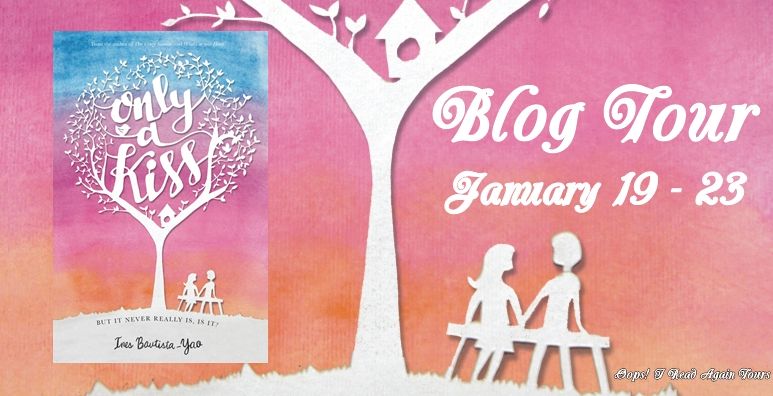 _________________________________________
Only a Kiss
Author:
Ines Bautista-Yao
Release Date:
November 29th, 2014
Publisher:
Chamber Shell Publishing
Rating:
4 out of 5 Stars
Pages:
106
Format:
e-book, received from author for an honest review
Tour Host:
Oops! I Read A Book Again Tours
Click Here
to see the rest of the Tour Schedule!
|
Goodreads
|
Amazon
|
Barnes and Noble
|
This book is only 99 cents until February 14th!!
Synopsis:

When she was nine-years-old, Katie knew she wanted Chris to give her her first kiss. It wasn't because she was in love with him (no way, he was her best friend! Besides, she was in love with his fourteen-year-old big brother), it was because she could make him do anything she wanted. Besides, it didn't really mean anything. It was only a kiss after all. But then things started to change. They grew up. They parted ways and went to different high schools. And other girls and boys—well, just one particular boy—came into the picture, throwing their lives upside down. Told from the alternating points of view of Katie and Chris, this love story between two best friends will tug at your heartstrings and leave you thinking how the simplest things can mean so much.
_________________________________
My Review:
I wasn't going to sign up for any more reviews, but then I saw this one and had to read it. I knew it was a little over 100 pages so I knew it wouldn't kill me to read through it really quick. I am glad I signed up for it!
This book made me think of my own boyfriend. We were best friends, always playing with each other, but never went more than that. neither wanted to mess up the friendship, but after a while we knew the friendship was ruined no matter what when feelings got involved. We have been together for 3 years now and are still going strong!!
Katie was pretty funny to follow, she wasn't funny herself, but the things she thought up and the way she acted with things was kind of funny to me. I know it wasn't meant to be, but I took it that way. I did find her to be a brat, but the author itself was trying to make her that way, so I am not complaining. She was one that was actually bearable. You could feel her emotions throughout the book. Her as a 9 year old what was really made her funny. I could have definitely followed her when she was younger a little longer.
Chris was a sweetheart. When he was 9 he was so sweet and even when he was older too. He had some girl trouble for a little bit and it made him what he became after a while. No matter what though, he was his sweet self to Katie. When the shizz hits the fan as they say, you can't help but have your heart break along side him. I was so proud of him at the end.
This book was so sweet. I knew it was hard on both of them, but they made it through all it no matter how it ended, they would always be best friends. The author does a wonderful job of getting so much detail into the book in such a short amount of time. When it was over I was satisfied and didn't feel robbed of anything. You got to cover so much ground in the little bit of pages you get. I felt like I read a full sized novel at the end. I don't know how she pulled off this feeling, but it was nice to have it.
This is such a cute little read that is good for adults as well as teens. There is no sexual content in here that could be too much for a young teen, so it is enjoyable for all. It gives you the warm fuzzies when you put it down!!
_____________________________________________
Excerpt

Running into the waves, Katie shrieked as the cold water hit her skin. "Maybe thiswas a bad idea!" She was about to head back to the sand when Andrew startedsplashing her with water. "Hey, cut it out!" She splashed him back, laughing. Shefelt like they were in a romantic comedy, all she needed was a killer soundtrackand they were all set. When Andrew held his hands up and called for a truce,Katie swam up next to him, thinking she was most possibly living the best night ofher life—with or without the alcohol dizzying up her brain.
_____________________________________________
About the Author


Reading and writing are close to Ines Bautista Yao's heart ever since she was a child. She graduated from the Ateneo de Manila University with a degree in AB Communication Arts. She has been a teacher at the Assumption College San Lorenzo and the Ateneo de Manila University's English department.

Her debut novel One Crazy Summer was first penned in 2007 when she was pregnant with her first daughter Addie. Being a mother has taken much of Ines' time so she was only able to write 13 pages of her novel. She completed her story in April 2011, while three-year-old Addie was sleeping and inspiration struck her again. Two months later her story was complete. After eight months, her dream of publishing her own book came true. The book was only launched last January 26, 2012, but Ines is already writing her second novel.

Most readers can remember Ines as the former editor-in-chief of K-Zone Magazine and Candy Magazine . At present, Ines is working as an editor of Summit Books. She is also married to photographer Marc Yao, whom she says she consults whenever she's stuck in the middle of a story she's writing.


________________________________________