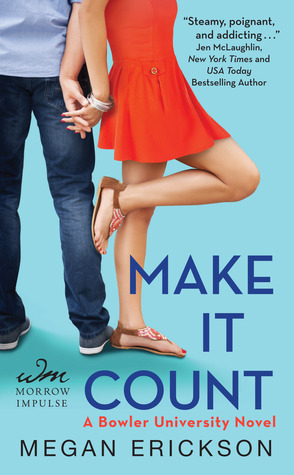 Make It Count
Author:
Megan Erickson
Release Date:
June 3rd, 2014
Publisher:
Harper Collins
Rating:
5 out of 5 Stars
Pages:
336
Format:
Ebook, Bought
|
Goodreads
|
Amazon
|
Barnes and Noble
|
Synopsis:

Kat Caruso wishes her brain had a return policy, or at least a complaint hot-line. The defective organ is constantly distracted, terrible at statistics, and absolutely flooded with inappropriate thoughts about her boyfriend's gorgeous best friend, Alec…who just so happens to be her brand new math tutor. Who knew nerd was so hot?

Kat usually goes through tutors like she does boyfriends—both always seem to bail when they realize how hopeless she is. It's safer for her heart to keep everyone at arm's reach. But Alec is always stepping just a little too close.

Alec Stone should not be fantasizing about Kat. She's adorable, unbelievably witty, and completely off limits. He'd never stab his best friend in the back…

But when secrets are revealed, the lines of loyalty are blurred. To make it count, Alec must learn messy human emotions can't be solved like a trigonometry function. And Kat has to trust Alec may be the first guy to want her for who she is, and not in spite of it.
My Review:
First off, Nerds are definitely hot. Okay, now that that is off my chest, lets move on :)
I really enjoyed this book. I started reading it on a Sunday night before my work week started back up. I read up until 11:30 and said okay, I really need to get some sleep. I couldn't wait to get off work so I could finally finish it.
Kat was a character that pulls at your heart right away. You feel so bad for her and the way she struggles with school. She tries and tries but just doesn't seem to be able to get the grades. You can tell it is something that really bothers her, no matter how beautiful she is on the inside and out. She spends her time finding guys that won't try to dig into who she really is so she still can just be in her mind stupid without feeling so bad. It was hard to read about her that way because you can see how wonderful she really is. She is sarcastic, perverted, and just all around goofy. I really enjoyed her as a character. She had her flaws where she took things the wrong way, but you know from what she has gone through you do understand even if you want to shake her a little.
Alec. Dreamy Alec. I love me some nerd, that is for sure. So he of course what a character that I didn't only like but drooled over too. Some of the dirty scenes I will be shameless and say that I felt anyone would be lucky to see the man nakey!You learn more about Alec as the book goes and he also steals your heart. The poor guy also doesn't get a break but he does all he can to try to fix the problems in his life. Poor Alec doesn't understand the female mind, even when one of his best friends is a lesbian. He has his times of saying the wrong thing and finding out later what he did wrong. He has a bit of a temper from time to time, but yet so does Kat. They both can be stubborn and it caused some problems with them throughout the book. Not in a tacky way though, it was realistic and easy to follow.
Max, even with his problems wasn't a character I hated. I liked him as a person just knew he wasn't meant for Kat. When things are revealed at the end I wish I would have been able to figure it out on my own, but it was nice to read a book that wasn't entirely predictable. Max had his moments of douchebaggery, but he pulled himself out of in the end. He supported Alec and was there for him in the end which was wonderful. Max has morals (sometimes).
The book follows mainly Alec and Kat around their life of college, between tutoring and just normal college life. You don't get much from them in the actual classes, though little bits of that pop up from time to time. It was easy enough to follow the life even for those who have never been to a college campus.
The characters are all very easy to get along with and understand, even the ones you don't like much. They all had great personalities and each had their own ways to make you smile. There were quite a bit of secondary characters but they all had important reasons for being there. Not many of the characters had something that they didn't contribute in one way or another.
This book is one that anyone who loves a little romance but also loves a book that helps you gain some self-esteem this is your book. You get the message that no matter what happens in your life, to pick yourself up and don't give up. There will always be a reward in the end. You also learn to love yourself for exactly who you are. You don't need to try to be anyone else, you as yourself is the perfect person to be! Sometimes we all lose that grasp on ourselves and we need a reminder from time to time. This is the perfect book to pick up and make yourself love yourself all over again!