My bestie, Kristalyn, over at
The Sarcastic Palmtree
started up this meme. She does it once a month and I always look forward to seeing what they come up with! She takes the ipods of herself as well as her kids and hubby and they do what it says above, they hit shuffle. They list down the songs that come up for all of us to see.
I know this is a book blog, but we can also have some fun here too :) I decided I wanted to be a part of it, and of course I got permission to do it along with them! This is for the month of October, we just both got ours up late, so sorry for that!! To see Kristalyn's Shuffle for October,
click here
!!
Without further a do, TIME TO HIT SHUFFLE!!
Amber
Age -- Adult, 26 years old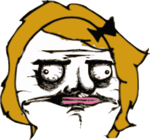 Favorite Music/Artists -- Blessid Union of Souls, Hootie and the Blowfish, One Direction, Savage Garden.
I listen to a bit of everything, but I love 90s music!!
Amber's Playlist
1. What The Hell -- Avril Lavigne
2. Do You Wanna Build A Snowman -- Frozen Soundtrack
3. All That She Wants -- Ace of Base
4. I Just Had Sex -- Lonely Island
5. How To Love -- Lil' Wayne
6. I Believe I Can Fly -- Me First and the Gimme Gimmes
7. Let It Go -- Alex Boyé
8. Act A Fool -- Ludacris
9. No Rain -- Blind Melon
10. Just Can't Let Her Go -- One Direction
__________________________________
There you all go!! Let me know what you have on your playlist!
See you again for November's Shuffle!!