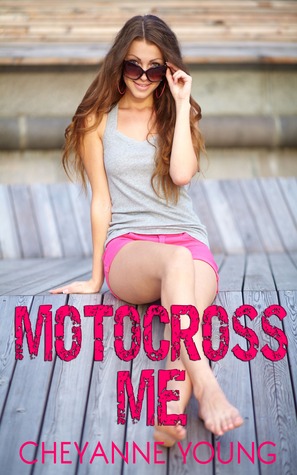 Motocross Me
Author:
Cheyanne Young
Release Date:
June 26th, 2013
Publisher:
Self-Published
Rating:
5 out of 5 Stars
Pages:
252
Format:
Ebook, Bought
|
Goodreads
|
Amazon
|
Book Depository
|
Barnes and Noble
|
Synopsis:

When Hana Fisher moves to the small town of Mixon, Texas to live with her dad, she dreads having to work at the boring pile of dirt he fondly calls a motocross track. But when she gets there, she finds the rinky-dink dirt bike track from her childhood has grown into the most respected racing track in the state.

Now popular by association, Hana endures the pain and sweat of working in the summer heat in order to fit in with a sport she's growing to love. She gets a real family, a best friend and not just one, but two of the fastest racers trying to win her heart.

When Hana abuses her status as the track owner's daughter to help the gorgeous Ryan Russo cheat in the biggest race of the year, she risks more than just losing her job. Every good thing in her life is at stake now- her friends, her dad's trust, and Ash Carter- the kind-hearted racer who may not be as alluring as Ryan, but is proof that nice guys don't always finish last.

My Review:
I spent two years in New Mexico and this book brought me back to those days. I heard dirt bikes all the time and even went to a few races while I was out there. I never knew it was such a big thing until I moved out there. It was nice to relive those days.
I loved following Hana. Most girl characters tend to annoy me, but this one was pretty funny and enjoyable. She was pretty level headed, even if the book did start out with her storming out of her mom's house. I liked how she realized very quickly who she should trust and not trust. She had her moments of doubts due to hormones, but her head won out :)
I already had a bad vibe from Ryan from the Summer Unplugged series before I knew really anything about him. Here I get to see him pretty well and realize that he is in fact a horrible person. Most of the time the rich, goodlooking guys are. I was hoping that Hana would realize it all!
I loved Ash. I also knew about him from the Summer Unplugged series, so I did know how it all ended coming into the book, but it was still nice to watch the journey. You didn't really get to know him in Summer Unplugged, so it was nice to see who he really was. I loved that he found a way to keep going in Motocross no matter the financial situation of his family. He always found a way.
This book is set pretty much only at the Mixon Motocross Track. It is set between their house and the track which is all set on the same plot of land. It made me want to run out and watch a race myself. I really miss the desert now!
I loved this book. I have wanted to read this book for a while just never got the time for it. I used Swag September as the perfect excuse to get it read. It was wonderful. I have been busy the past couple nights and wasn't able to read anything but I was really wanting to pick this up and finish it. I don't have many book that suck me in like that, but this one had my attention even when my hand wasn't holding the book!
This book was so cute and heart warming but was also nice to show that money isn't everything. That even when things seem like they won't work out to just hold on and things will eventually work out. They don't always work out the way you thought they would, but most of the time it ends up being better than you expected.
I think anyone even without knowledge of motocross racing could still get into this book. I don't know much at all, but I was still able to follow it all just fine. Cheyanne does a wonderful job of explaining the parts that might need a little help to understand.
This is a great book about love, family, and self-acceptance. I am so glad that I read it and I can't wait to read more by her!