This is a new weekly meme that Kristalyn over at The Sarcastic Palmtree and I, Amber at Paradise of Pages, came up with. We have been wanting to re-read some of our favorites but feel overwhelmed by all the other new books coming out that our re-reads get put to the side. That is how we came up with this meme, we decided we don't want to put them aside anymore, so we will be taking turns putting up our reviews on the re-reads we do throughout the month. This does not mean we won't keep up with recent releases as well, it just means we will make more time for those we have read before as well.
__________________________________________________
So here is how this meme will work:
Each week the co-hosts will trade off with recapping when it is a re-read or what they have heard so far about the book and the other co-host will put up their review.
The participants can read anything that they remember reading in the past, or something that they have wanted to read that has been around for a while and just haven't gotten around to reading it yet for whatever reason.
Participants can decide if they want to recap the book before reading it or just put up a review of what they read.
Anyone can join in, just please link back to our blogs as well as add your name to the linky so we can hop around and see what everyone is reading.
Please put our banner on your post as well, so we all look the same!
We ask you kindly to follow BOTH of our blogs.
Most importantly remember to just have fun! :)
__________________________________________________
We will be pro
viding each week a linky that you will be able to also link your posts for us to view. All we ask is for you to put up our banner as well as a link back to
BOTH
hosts on your post.
__________________________________________________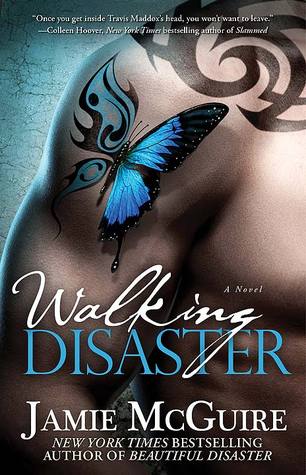 Walking Disaster (Beautiful #2)
Author:
Jamie McGuire
Release Date:
April 2nd, 2013
Publisher:
Atria Books
Rating:
5 out of 5 Stars
Pages:
433
Format:
Paperback, bought
|
Goodreads
|
Amazon
|
Barnes and Noble
|
Synopsis:



Can you love someone too much?

Travis Maddox learned two things from his mother before she died: Love hard. Fight harder.

In Walking Disaster, the life of Travis is full of fast women, underground gambling, and violence. But just when he thinks he is invincible, Abby Abernathy brings him to his knees.

Every story has two sides. In Beautiful Disaster, Abby had her say. Now it's time to see the story through Travis's eyes.
My Review:
Read my recap for this book
Here
.
I ended up reading this book in a day. I am a girl who stays up until 9pm and then I am out. I don't like to stay up late, I like my sleep. It doesn't help that I am cursed with not being able to sleep in past 7:30 am though. I ended up staying up until almost 1 in the morning because I HAD to finish the book.
I as you know, have read this before, but I remembered a lot of Abby's POV but didn't remember so much of Travis's. I couldn't stop reading it. I had to remember all the stuff I forgot. I LOVED reading it from Travis's POV. He is the typical bad boy that was saved when the right one came along. Sounds cliche, but it does actually work. It had it's own voice and didn't make it seem like all the other stories out there.
Travis has some demons, you get to learn about his mom and the promises that he made. You understand his reasoning for going after women for just one-night stands, he gives respect to those that deserve it. In Beautiful Disaster you get to see some of his actions through Abby but you don't get to hear why. I loved how the author made two different books for the same story. You get to hear both sides which is very rare in the book world. You usually get one side of the story and it is up to you to be on that side or want to be on the other, even though you never get to hear that side.
There are some gaps in Beautiful Disaster that you get to have cleared up in this book. You get to understand all the things that Travis did and not only smile over it, but get a soft spot for him as well. He has times of him letting his anger control him but now you get the chance to see the struggle that goes on in his head.
You also get a pretty clear ending with how things end up, you even get an epilogue that lets you know how things are years and years down the road. I love when this happens because I am a girl that not only loves a happy ending, but I love to see if they stay happy or not. Sometimes books just end and leave you in the dark to just hope but not really know. When I get a good solid epilogue, I can't help but want to re-read it over and over until I have to tell myself to stop.
Travis gives you all the reasons he struggles and it is wonderful to watch the transformation that goes on inside him because of Abby. This is a great story to be able to see your own self in, no matter the type of person you are, and want to better yourself too. I was able to read and see my own flaws that have been consuming me recently and want to fix them. I have a new drive to keep going and make something of myself.
Books like this are part of the reason I read. There are so many out there that can leave you with a warm fuzzy feeling, you give it 4 stars and then go on with your day. Later that day, you are already forgetting what you read. This is not one of those books, it is a book that will keep the life lessons with you. I did forget some of the things that happened in this book from the last time I read it, but I also remembered all the important parts and the message that goes along with it. I know from experience that this is a book that doesn't leave you. I read to have the chance to find the books to keep me going and take the chance to find the needle in the haystack when it comes to a book that can open up your eyes. This was definitely an eye opener.
__________________________________________________
We will be back next week with our review or recap!
What about you? What do you remember about the time that you read this book/series?
Be sure to leave your links below :)