This is a new weekly meme that Kristalyn over at The Sarcastic Palmtree and I, Amber at Paradise of Pages, came up with. We have been wanting to re-read some of our favorites but feel overwhelmed by all the other new books coming out that our re-reads get put to the side. That is how we came up with this meme, we decided we don't want to put them aside anymore, so we will be taking turns putting up our reviews on the re-reads we do throughout the month. This does not mean we won't keep up with recent releases as well, it just means we will make more time for those we have read before as well.
__________________________________________________
So here is how this meme will work:
Each week the co-hosts will trade off with recapping when it is a re-read or what they have heard so far about the book and the other co-host will put up their review.
The participants can read anything that they remember reading in the past, or something that they have wanted to read that has been around for a while and just haven't gotten around to reading it yet for whatever reason.
Participants can decide if they want to recap the book before reading it or just put up a review of what they read.
Anyone can join in, just please link back to our blogs as well as add your name to the linky so we can hop around and see what everyone is reading.
Please put our banner on your post as well, so we all look the same!
We ask you kindly to follow BOTH of our blogs.
Most importantly remember to just have fun! :)
__________________________________________________
We will be pro
viding each week a linky that you will be able to also link your posts for us to view. All we ask is for you to put up our banner as well as a link back to
BOTH
hosts on your post.
__________________________________________________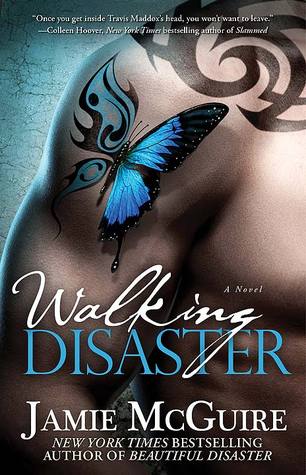 Synopsis:

Can you love someone too much?

Travis Maddox learned two things from his mother before she died: Love hard. Fight harder.

In Walking Disaster, the life of Travis is full of fast women, underground gambling, and violence. But just when he thinks he is invincible, Abby Abernathy brings him to his knees.

Every story has two sides. In Beautiful Disaster, Abby had her say. Now it's time to see the story through Travis's eyes.
My Recap:
I remember liking this book even better than the first. I loved getting inside Travis's head and learning more about the way he thinks.
I loved seeing the pain he is in, not in a mean way, but I loved seeing that he was finally able to love and do what he needed to in order to fix things.
I remember how passionate he becomes with anything once it means something to him.
I remember he isn't a half in kind of guy, if he is in, he is all in.
Pretty much everything else I remember is the same as the first book, Vegas, them fighting a lot because of their personalities, their relationship.
I also remember parts of the scene with Megan towards the end of the book but I forgot most of it so I am excited to see how it all unfolded again.
I can't wait to get back inside his head and love the book all over again!
__________________________________________________
We will be back next week with our review or recap!
What about you? What do you remember about the time that you read this book/series?
Be sure to leave your links below :)