I went on an ebook buying spree since I had some money from my birthday still left over. I ended up getting quite a bit of them!! I figured I would share them with you!!
To the Sea
by: Dierdre Riordan Smith



|

Goodreads

|

Amazon | Barnes and Noble |

Fresh out of college and newly married, twenty-something Kira plans the perfect future with a house in the suburbs, ski getaways, and fancy dinners. When her husband Jeremy dies in a car accident, loss casts her adrift, but her heart cracks wide open when she uncovers the secrets he left behind.

Despite her dislike for the ocean with the whipping wind and itchy sand, Kira seeks solace in salt: tears, sweat, and the sea, helping her move beyond the myth of perfection, and guiding her toward the truth of who she really is.

She takes surf lessons to overcome her fear of the water and her well of grief. In the local surf scene, she meets sultry Jamie, with a hot Australian accent. He's eager to spend time with her, but mostly between the sheets. Then there's soulful Ian, her surf instructor, who helps her get on her feet and ride the waves.

During a transformative trip to South Africa on surfari, she learns the best way to be loved, yet when she returns to the shores of New England, grief continues to haunt her. She must let go, but how? Torn between the tides, Kira discovers strength and courage, navigates loss, lust, and love, taking readers along for the plunge.

Bought: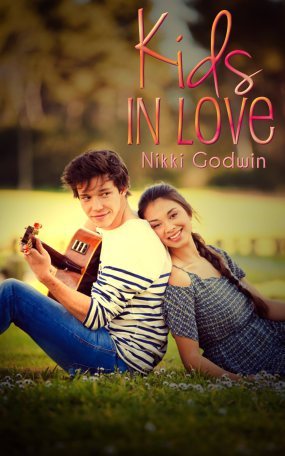 Kids in Love


Nikki Godwin

| Goodreads | Amazon |

As one of the original Saturnites, Darby McMillon has been a longtime face of the fandom. From the days when the boys were just a YouTube band trying to gain fans up through their recent lockdown, Darby's channel - Darby's Daily Dose of Drama - was the "go to" spot for all things Spaceships Around Saturn.

Until now, she's been trusted by most and envied by few, but her meet up with SAS girlfriend Chloe Branson shakes Darby's world. She learns quickly that when you're with the band, everything isn't always red carpets and music videos.

And the closer she gets to her SAS crush Tate Kingsley, the closer she comes to losing her Saturnite status forever.

The Write Stuff


Tiffany King

| Goodreads | Amazon | Barnes and Noble |

Twenty-two-year-old historical romance writer Nicole Blake, or N.S. Blake to her readers, hasn't taken an official poll, mind you, but she is convinced she may be the only romance author on the planet who is still a card-carrying member of the virgin club.Not that she hasn't tried to end her membership. Life just keeps finding pesky ways to interfere. With no prospects on the horizon, Nicole begins to feel like the closest she will ever get to experiencing a man is within her own stories.

Opportunity presents itself in the form of hot-as-sin-on-a-lollipop-stick bartender/premed student Alec Petropoulos, who agrees to be the cover model for her upcoming book. Sparks fly instantly between them, and Nicole begins to entertain the possibility that she's finally found the right guy to hand over her tattered V-card. Alec has all the makings for a perfect one-night-stand candidate except, much to Nicole's surprise, he seems to be the only man in existence not interested in bagging a virgin.

Stuck between a rock and a stubborn male, what's a virgin to do? Seduce him, of course. How hard could it be? If it works for the characters in her stories, why wouldn't it work for her? After all, what happens under the cover…stays under the cover.

I Want It That Way


Ann Aguirre

| Goodreads | Amazon | Barnes and Noble |

Nadia Conrad has big dreams, and she's determined to make them come true—for her parents' sake as well as her own. But between maintaining her college scholarship and working at the local day care to support herself, she barely has time to think, let alone date. Then she moves into a new apartment and meets the taciturn yet irresistible guy in 1B….

Daniel Tyler has grown up too fast. Becoming a single dad at twenty turned his life upside down—and brought him heartache he can't risk again. Now, as he raises his four-year-old son while balancing a full-time construction management job and night classes, a social life is out of the question. The last thing he wants is for four noisy students to move into the apartment upstairs. But one night, Nadia's and Ty's paths cross, and soon they can't stay away from each other.

The timing is all wrong—but love happens when it happens. And you can't know what you truly need until you stand to lose it.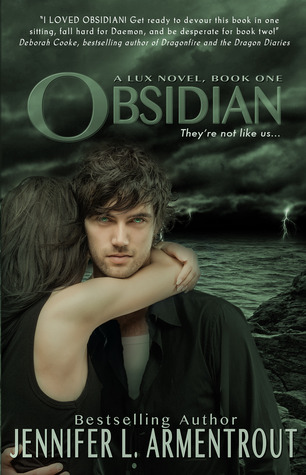 Obsidian


Jennifer L. Armentrout

| Goodreads | Amazon | Barnes and Noble |

Starting over sucks.

When we moved to West Virginia right before my senior year, I'd pretty much resigned myself to thick accents, dodgy internet access, and a whole lot of boring... until I spotted my hot neighbor, with his looming height and eerie green eyes. Things were looking up.

And then he opened his mouth.

Daemon is infuriating. Arrogant. Stab-worthy. We do not get along. At all. But when a stranger attacks me and Daemon literally freezes time with a wave of his hand, well, something... unexpected happens.

The hot alien living next door marks me.

You heard me. Alien. Turns out Daemon and his sister have a galaxy of enemies wanting to steal their abilities, and Daemon's touch has me lit up like the Vegas Strip. The only way I'm getting out of this alive is by sticking close to Daemon until my alien mojo fades.

If I don't kill him first, that is.

Surfaced


Deirdre Riordan Hall

| Goodreads | Amazon | Barnes and Noble |

By eighteen, Jamie Burke was a pro surfer capturing the hearts of surf fans everywhere.

By twenty, he broke just as many hearts trading his prowess on the waves for sultry nights spent between the sheets.

By twenty-two, he lamented losing the woman who changed him. Then he disappeared.

When Jamie surfaces in his hometown in Australia, he discovers his high school sweetheart has moved on, but that doesn't stop him from believing that she's the one. He'll do whatever is necessary to win her back, even compete in a surf-off against tough Mik Tanaka, aka Tank.

Awash on the shore, Jamie also finds pieces of his broken family—a father who took off, his disappointed mother, and a brother who has a secret—it's up to him to help put them back together. As he reunites with familiar faces, rallying around him, he might just have to redefine what family means.

Jamie spent years chasing a dream all over the world and doesn't expect the waves to carry him right back to where he started. Only he can claim the treasures his return home by the sea offers: love, family, and truth. But as he fights temptation, sinks to the depths of despair, and struggles to open up, his biggest adventure will be dropping anchor.

In The Desert


Deirdre Riordan Hall

| Goodreads | Amazon | Barnes and Noble |

Twenty-year-old fiery film student Brighton Holmes knows exactly what she wants: an epic adventure on the open road in her late father's 1969 Chevelle, alone. Her quest is to visit all fifty states and find a place to call home.

When a family friend asks for a favor, UK rocker in recovery, Alex Stihl, joins her on the road trip, stirring up trouble; the last thing she needs. It doesn't help that he has a mob of fans and a crazy ex-girlfriend tailing his every move.

Brighton and Alex clash as they cruise out of New York, she grows resigned in the rolling hills of Amish country, and he crashes hard in a hotel on the edge of the Smoky Mountains. While Brighton seeks a place to wash her mind of the past, Alex dodges reminders of heartbreak.

They both try to escape everything they have in common: heartache, loss, and confusion about what's next. But the magic of New Orleans unites Brighton and Alex as they fight desperately for the other until the desert leads them to discover exactly what they're resisting and missing.

When they reach the Oregon coast, Brighton uncovers her musical talent, bringing them closer together and helping her reconcile losing her father. But the trip comes to an end when they arrive in Los Angeles. Real life intervenes, splitting them apart; she moves into her new off-campus apartment and he has to return to his band.

After the semester begins, Brighton tries to shake her mind loose from Alex, but the memory of his sexy voice, rainy day eyes, and the miles they shared lingers like a song stuck in her head. Six months later, when his band returns to Los Angeles for a concert, the compass of her heart finally leads her home.

Mirrored


Dierdre Riordan Hall

| Goodreads | Amazon | Barnes and Noble |

Alex Stihl, notorious rocker, known for food fights, guitar wars, and riots, found love on the road with wild-child Brighton Holmes, eventually calming his alcohol-infused mayhem.

At the end of his band's summer tour, he wants nothing more than to spend a few quiet weeks by the sea with his guitar and his girl.

When he discovers her reluctance to visit is because her mom faces a health crisis, his attention turns to his own mother who split when he was born, leaving him cracked with insecurity and anger.

After Brighton relents and books a ticket to the UK, Alex gives her a tour of the London her late father knew, splintering her old grief. Their trip to see his grave brings relief, and a week spent in Alex's hometown in Scotland, draws out mischief.

All the while, paparazzi harass them, culminating in a frenzied night when Alex says goodbye to his dying mother, an impromptu performance at a rock club, and band-member Finn revealing he's taken up with Alex's crazy ex-girlfriend, and then quits the band.

When Brighton discovers film, photos, and articles intended to grind up Alex's reputation in the industry fame machine, chaos ensues on the damp streets of Glasgow. If he can tear himself from the madness, his biggest hit will include a sunset in the sand and a duet with his girl.

Upside Down


Lia Riley

| Goodreads | Amazon | Barnes and Noble |

If You Never Get Lost, You'll Never Be Found

Twenty-one-year-old Natalia Stolfi is saying good-bye to the past-and turning her life upside down with a trip to the land down under. For the next six months, she'll act like a carefree exchange student, not a girl sinking under the weight of painful memories. Everything is going according to plan until she meets a brooding surfer with hypnotic green eyes and the troubling ability to see straight through her act.

Bran Lockhart is having the worst year on record. After the girl of his dreams turned into a nightmare, he moved back home to Melbourne to piece his life together. Yet no amount of disappointment could blind him to the pretty California girl who gets past all his defenses. He's never wanted anyone the way he wants Talia. But when Bran gets a stark reminder of why he stopped believing in love, he and Talia must decide if what they have is once in a lifetime . . . or if they were meant to live a world apart.

Jordyn


Tiffany King

| Goodreads | Amazon | Barnes and Noble |

Hand to hand combat training: Check
Cardio and strength training: Check
Daemon hunting: Check
Anomaly: Check

Check, check, check, check...That's all my life is. There's nothing ordinary about me. I'm "special." I know this because I'm reminded of it every stinking day. I can kick a Daemon's ass with both hands tied behind my back. I can run up a mountain without breaking a sweat. Know what I can't do? Get guys to notice me, or hang out with friends like normal people do. I can't just be ordinary because I have an Arch Angel for a mentor who is always breathing down my neck, and a family of angelic Guides and Protectors who scrutinize every little thing I do. Just for a day I want a life where I'm no longer some anomaly, where I don't have to feel like a lab rat.

And then I met Emrys. Okay, so my mentor and family hate him, but probably for good reason. After-all, he is a Soul Trader, and they aren't the most trust worthy beings. But, he is sooo hot with his green eyes, leather jacket and the sexiest tattoo you've ever seen running down his back. And-he doesn't treat me like a project.

I've got myself in quite a little quandary here. Choosing between my responsibilities and the Trader that holds my heart is something I didn't sign up for. Torn between two different worlds, I must now decide who to trust and who to walk away from. What's a girl to do? See what I mean? I am an anomaly. I am Jordyn.

Miss Me Not


Tiffany King

| Goodreads | Amazon | Barnes and Noble |

Miss Me Not is a beautiful story of self-discovery, forgiveness, caring, and love.

Madison Hanson's past demons have given her a shadow of an existence with little hope. With the sudden tragic death of a fellow student, Madison questions her own life choices, and is now forced to evaluate everything she thought she believed in. When fate intervenes and partners her with Dean Jackson, a popular "all around good guy" from school, Madison gets a glimpse of a life that is filled with sunshine that has the power to break through the darkness she has cloaked herself in.

With Dean's help, Madison discovers a desire to finally step out of the shadows, and embrace life and all its gifts.

Unlikely Allies


Tiffany King

| Goodreads | Amazon | Barnes and Noble |

Eighteen-year-old Kimberly gets the shock of her life when she learns the father she thought was dead is not only very much alive, but never even knew she existed. Angry with her mother for lying all these years, Kimberly flies to Colorado to meet the father she knows nothing about before heading off to college in the fall.

Her father's world turns out to be nothing like she expected. Rather than the typical nine to five lifestyle, Kimberly's father runs a summer foster camp that teaches young children skills to build their confidence and self-esteem. The Colorado Rocky Mountains are a different world than the sunny shores of California, taking Kimberly completely out of her element, and causing her to second-guess her spur of the moment decision.

Never being one to quit anything, Kimberly is determined to show her father that a surfer girl can fit into this rugged mountain wilderness. That is if she can deal with Mason, an arrogant nineteen-year-old guy who has made it his mission to point out every mistake she has made since her arrival. While she would love nothing more than to rub it in his know-it-all face, Kimberly can't deny the feelings he stirs up inside her, or the chemistry between them, even during their verbal assaults.

When a tragic accident leaves them stranded in the mountains, Kimberly must use her shaky skills to save Mason and survive the elements. Suddenly, fighting is the last thing on their minds as they must rely on each other if they want to live. In their struggle for survival, they realize what they thought they knew about each other isn't true after all.

Forever Changed
Tiffany King

| Goodreads | Amazon | Barnes and Noble |

Kassandra Cole has it all—a stable home with great parents, popularity and all the friends she could ever need. She is used to a lifestyle where everything comes easy to her, from good grades to being captain of the cheerleading squad.

Her entire world is shaken to the core when a fatal accident takes her father, causing Kassandra to re-examine the course her life was on. The actions of one individual forever changes her life, leaving her to pick up the pieces of her broken family. Kassandra begins to question everything she once cherished and the people she disappointed along the way.

Maddon Johnson's life is as different from Kassandra's as night and day. Abandoned by his mother at a young age, he is left to deal with his abusive, alcoholic father on his own. He has one goal: lay low and get the heck out of dodge as soon as he is legally old enough.

Everything changes when his father's tragic actions send Maddon crashing into Kassandra's world. Suddenly, getting away is the last thing he wants as he discovers it is possible to believe in love after all.

Wishing for Someday Soon


Tiffany King

| Goodreads | Amazon | Barnes and Noble |

Seventeen year old Katelyn Richards is a stronger person than anyone will ever know, and that is just the way she wants it. Behind her normal facade lies the reality of a broken home life. Thanks to her abusive mother, a string of deadbeat stepfathers, and an unsympathetic system, Katelyn has learned that the only one she can count on is herself. Her life's mission has become to shield her nine year old brother, Kevin, and to give him the future that they both wish for. A life with no more abuse, no worries about where their next meal will come from, and no more wondering if they will have a roof over their heads.

When her mother moves them again, this time to a small town in Montana, Katelyn's resolve is shaken when she meets Max, a cute boy from her new school, who gets a glimpse into her real world. Max slowly manages to break through Katelyn's wall of distrust, stirring up feelings she never saw coming. Now with her world more complicated than she ever intended, Katelyn struggles with the decision to follow her heart into the arms of the first boy she has ever loved. A decision that could risk the promise she made to protect Kevin, and to give them the 'someday soon' that is so close within their grasp.

Meant to Be


Tiffany King

| Goodreads | Amazon | Barnes and Noble |

Krista Miller feels like she has lived her entire life in a glass box with her every emotion on display. She can't help feeling like a defect as her sensitivities have made her socially inept and without any real friends; the one exception being the boy that visits her each night in her dreams.

Krista's emotions are put to the test when a move to California triggers a devastating change to her fantasy world. The nightly comfort that the boy provides has now become a recurring nightmare as he is taken from her by an unseen force.

Struggling to appear normal, Krista enrolls in a new school and finds it to be nothing like she thought. Her new life is sent spiraling out of control from a strange connection with a boy, Mark, who claims to know all her secrets.

As Krista begins to explore the emotions that Mark evokes in her, secrets about their mysterious past and their predestined purpose threatens to separate them just when they have found each other.

_____________________________________
That's all I got this week!!