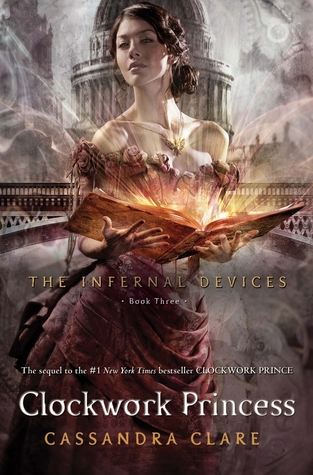 Clockwork Princess
Author:
Cassandra Clare
Release Date:
September 5th, 2013
Publisher:
McElderry Books
Rating:
5 out of 5 Stars
Pages:
565
Format:
Hardcover, bought
|
Goodreads
|
Amazon
|
Book Depository
|
Synopsis:

Tessa Gray should be happy—aren't all brides happy? Yet as she prepares for her wedding, a net of shadows begins to tighten around the Shadowhunters of the London Institute. A new demon appears, one linked by blood and secrecy to Mortmain, the man who plans to use his army of pitiless automatons, the Infernal Devices, to destroy the Shadowhunters. Mortmain needs only one last item to complete his plan. He needs Tessa. And Jem and Will, the boys who lay equal claim to Tessa's heart, will do anything to save her.
My Review:
Everyone that told me to read this trilogy had also told me that the third book was the best of the bunch. I have to say I agree. As I gave all the books 5 stars, I feel like this one should get more than 5. It was wonderful!!
This book sucked me in from the first page. It gives you some hints to start off with that later pop up in the story. Don't worry, no spoilers, I just know this one had a lot of things to show up in the book. There was quite a bit of action throughout the book, whether it was dramatic action or a battle had broke out. I wasn't able to guess how things were going to turn out at all.
Jem. Wow is what I can say about him. Just when you think he will do one thing, he does another. You can never guess what he is going to decide next. Even when you think things are definitely ending a certain way, he was like nope, this is what is going to happen. He is still a wonderful character and I enjoyed reading about him very much.
Tessa. That poor girl. She just can't seem to get a break. I am glad you finally figure out her story and get to watch it all come to a close. She is such a brave character and would do anything for anyone that she loves. I loved reading about her and I know she would be one character I would be able to call a friend if she were real.
Will. Swoon. How can you not fall for Will. One, I love the whole dark hair thing. He seems just my type with the personality too. He is so sweet and I can't believe how much he changed as a person within the books. I would have never guessed who he would turn into, but it made me love him even more.
This book was so wonderfully written. I don't see how anyone could say they didn't like this trilogy. It is the same world as The Mortal Instruments but yet so very different. I could keep reading about them forever!
The ending was great. It ended in a way to make everyone have a nice happy heart. The epilogue though. I had to take breaks to finish it because I started crying so bad I couldn't see the words. They were just blurs of black on the page. It was such a beautiful story in it, yet one that makes you not be able to breath. Part of me is telling me to re-read it, but I don't think I can handle it right now. I am messed up enough I don't really want to read anything right now. I think I might have to take a day or two to collect myself and then press on into another book.
This trilogy is worth reading and I know it will be one that I re-read very soon. I think I can only stay away from Will for so long :)