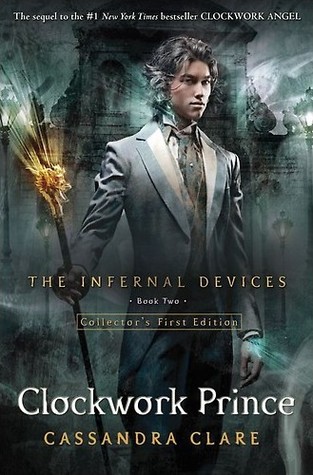 Clockwork Prince
Author:
Cassandra Clare
Release Date:
December 6th, 2011
Publisher:
McElderry Books
Rating:
5 out of 5 Stars
Pages:
502
Format:
Hardcover, bought
|
Goodreads
|
Amazon
|
Book Depository
|
Synopsis:

In the magical underworld of Victorian London, Tessa Gray has at last found safety with the Shadowhunters. But that safety proves fleeting when rogue forces in the Clave plot to see her protector, Charlotte, replaced as head of the Institute. If Charlotte loses her position, Tessa will be out on the street—and easy prey for the mysterious Magister, who wants to use Tessa's powers for his own dark ends.

With the help of the handsome, self-destructive Will and the fiercely devoted Jem, Tessa discovers that the Magister's war on the Shadowhunters is deeply personal. He blames them for a long-ago tragedy that shattered his life. To unravel the secrets of the past, the trio journeys from mist-shrouded Yorkshire to a manor house that holds untold horrors, from the slums of London to an enchanted ballroom where Tessa discovers that the truth of her parentage is more sinister than she had imagined. When they encounter a clockwork demon bearing a warning for Will, they realize that the Magister himself knows their every move—and that one of their own has betrayed them.

Tessa finds her heart drawn more and more to Jem, but her longing for Will, despite his dark moods, continues to unsettle her. But something is changing in Will—the wall he has built around himself is crumbling. Could finding the Magister free Will from his secrets and give Tessa the answers about who she is and what she was born to do?

As their dangerous search for the Magister and the truth leads the friends into peril, Tessa learns that when love and lies are mixed, they can corrupt even the purest heart.
My Review:
This book jumps in pretty much right where it left off in the first book. You are thrown right into drama and it doesn't stop through the whole book. There were many times throughout the book that I couldn't have guessed what was going to happen. I gasped several times throughout the pages of things that happened.
I loved the first book, but this book had me even more sucked in. I think I got to know the characters a bit in the first book, so this book was more just following them and watching as their lives change in just a matter of weeks. So much happens in this book you have to keep trying to figure things out, though Mortmain seems to be one step ahead of my thoughts as well as theirs. I can't wait to read book 3 to see exactly how it all ends. I know it might be a long night of me reading just to get answers.
Jessamine makes me mad. She did in the first book and she did even more in this book. She is so selfish she will do anything to get what she wants. She went lower than I thought even her possible.
Jem is still a sweetheart in this book. I want the best for him even though I am still Team Will. The poor guy seems to have so much happen to him you can't help but feel sorry for him, though I wish not everyone would act like he is the only one that had a hard life, they all have, but they still tip toe around Jem.
Will, Will, Will. The guy has a knack for getting himself in sticky situations. You know why he is doing the things he is, but that doesn't stop you from wanting to shake him sometimes. For some reason, my heart aches more for Will than it does Jem. Will has had so much happen to him though people give up on him anyway. I hope things end up working out for him in book three, he deserves happiness just as much, if not more, than any of the others.
Tessa. I feel she is so brave. I love her as a character and still don't find myself really annoyed with her. I do towards the end of the book, but I understand how it is to be in a love triangle. Not even a love triangle, but just not wanting to hurt someone that means a lot to you. Sometimes you tend to sacrifice yourself for their happiness and that isn't always the best way to do things. I can't wait to find out what the ultimate decision ends up being and also what she actually ends up being.
Not so much action happens in this book as much as you keep hitting dead ends. Like I said above, Mortmain seems to be one step ahead all the time. I know this book gives vital information and I am pretty sure since it the last book, that all of it will come to a head in the next book. I am very curious to see why Tessa is so important and was is going to happen. This book has so much suspense. I am glad I can pick the next book up right away and not have to wait the whole time for the next one to come out. I don't think I could have ended this book and held my sanity if the next one wasn't out.
Cassandra seems to have a gift in being able to leave the smallest little hints that you don't even realize is important until later down the road. Things happen for a reason in her writing and not just used as filler, no matter how big the books are. I like that about these books. Everything has a purpose no matter how small it may seem at the time.