This is a new weekly meme that Kristalyn over at The Sarcastic Palmtree and I, Amber at Paradise of Pages, came up with. We have been wanting to re-read some of our favorites but feel overwhelmed by all the other new books coming out that our re-reads get put to the side. That is how we came up with this meme, we decided we don't want to put them aside anymore, so we will be taking turns putting up our reviews on the re-reads we do throughout the month. This does not mean we won't keep up with recent releases as well, it just means we will make more time for those we have read before as well.
__________________________________________________
So here is how this meme will work:
Each week the co-hosts will trade off with recapping when it is a re-read or what they have heard so far about the book and the other co-host will put up their review.
The participants can read anything that they remember reading in the past, or something that they have wanted to read that has been around for a while and just haven't gotten around to reading it yet for whatever reason.
Participants can decide if they want to recap the book before reading it or just put up a review of what they read.
Anyone can join in, just please link back to our blogs as well as add your name to the linky so we can hop around and see what everyone is reading.
Please put our banner on your post as well, so we all look the same!
We ask you kindly to follow BOTH of our blogs.
Most importantly remember to just have fun! :)
__________________________________________________
We will be pro
viding each week a linky that you will be able to also link your posts for us to view. All we ask is for you to put up our banner as well as a link back to
BOTH
hosts on your post.
__________________________________________________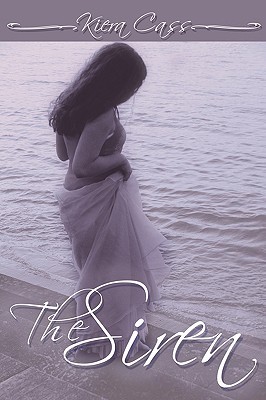 The Siren
Author:
Kiera Cass
Release Date:
July 1st, 2009
Publisher:
iUniverse.com
Rating:
5 out of 5 Stars
Pages:
265
Format:
Paperback, received from author years ago for an honest review (I reviewed it on my old blog the first time)
|
Goodreads
|
Amazon
|
Book Depository
|
Synopsis:



"You must never do anything that might expose our secret. This means that, in general, you cannot form close bonds with humans. You can speak to us, and you can always commune with the Ocean, but you are deadly to humans. You are, essentially, a weapon. A very beautiful weapon. I won't lie to you, it can be a lonely existence, but once you are done, you get to live. All you have to give, for now, is obedience and time..."

The same speech has been given hundreds of times to hundreds of beautiful girls who enter the sisterhood of sirens. Kahlen has lived by these rules for years now, patiently waiting for the life she can call her own. But when Akinli, a human, enters her world, she can't bring herself to live by the rules anymore. Suddenly the life she's been waiting for doesn't seem nearly as important as the one she's living now.
My Review:
Read my recap for this book
Here
.
I have fallen in love with Kiera Cass's writing all over again. I LOVED the Selection trilogy, but this book really shows Kiera as a writer. There was so much detail and depth but within the pages.
Kahlen is a siren, she has spent a long time helping the Ocean feed. She hasn't been happy with it and she is waiting for the day her 100 year term is over so she can finally fall in love. The problem is, she ends up falling in love when she still has 19 years to go before she is released. Now she must decide on if she wants to wait for her term to be up and try to forget Akinli or if she is willing to do anything to live the life now.
The first part of the book is somewhat long and drawn out, but I honestly think it was intention. Kahlen has to serve 100 years in order to be able to live her life for real. For now she just gets to exist and use her voice to lure in boats when the Ocean is in need of feeding. When you first start reading, Kahlen is only 8 years into her sentence, so you get to use the first hundred or so pages following her up until she gets to 81 years into her sentence. You get to experience not much happens in those years and it is the same in the book. It isn't bad though, you get to learn about her a lot so you understand her completely when Akinli comes into her life. I enjoyed it.
Akinli....sigh. I forgot how truly wonderful he is. He was probably my first real book boyfriend that I would have wanted to have in real life. He is so sweet and thoughtful and his heart is so big and wonderful. He truly captured me just like he did Kahlen. The last couple chapters of the book are set in his point of view instead of Kahlen's. There is no way you can read it and not have your heart melt. I will challenge you all in that!
You get to see so many emotions when it comes to losing those you love, feeling like your life isn't what you want, and the pain others go through when they aren't appreciated in the wold. The loss of the loved ones comes in all different ways. From Akinli who lost his parents in a car accident, to Kahlen losing her parents in the same ship wreck that should have killed Kahlen, to the other sirens who had to give up their families in order to save their life and become a siren. Each one has a different story and each one gives you different emotions that stir inside you.
It was a little different to see the Ocean as a very large creature that helps us survive. Without Her, there would be no use. Since I live right next to the Gulf of Mexico, it is a weird feeling to look at the water now. It makes me wonder if it were to be true, what all our trash is doing to Her. It can be quite a hard pill to swallow.
I think this book will be good for anyone really. Guys, girls, teens, adults. It has some great messages throughout it. There is yes kissing and romance within the pages, but not in a way that will assault anyone who reads it. It is refreshing and makes you smile and you can't help but wish them the best and hope that there is some way it can all work out.
I don't know if this book is something that you can easily get ahold of, but it is worth the effort to try and find out.
__________________________________________________
We will be back next week with our review or recap!
What about you? What do you remember about the time that you read this book/series?
Be sure to leave your links below :)