______________________________________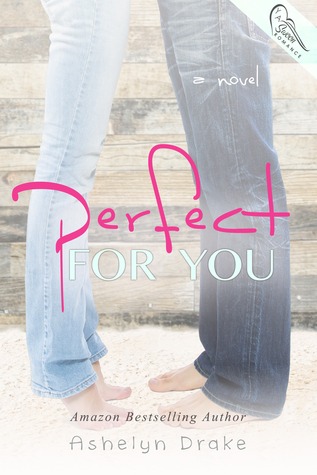 Perfect for You
Author:
Ashelyn Drake
Release Date:
September 9th, 2014
Publisher:
Swoon Romance
Rating:
4 out of 5 Stars
Format:
e-book, received from author for an honest review
Tour Host:
Ya Bound Book Tours
Click Here
to see the rest of the Tour Schedule!
|
Goodreads
|
Amazon
|
Synopsis:

Seventeen-year-old Meg Flannigan isn't very self-confident, but what girl would be after her sophomore-year boyfriend dumped her by making out with another girl in front of her locker?

Now a senior, Meg catches the eye of not one, but two gorgeous guys at school. Sounds good, right? What girl wouldn't want to be in Meg's shoes? One cute boy happens to be her boyfriend, and the other? Well, he wants to be. And Meg? She't torn between Ash, the boy she's been with for nearly five months, and Noah who is pretty irresistible.

But Meg is playing with fire. Pitting two boys against one another, even if she doesn't intend to, could end badly if she isn't careful. PERFECT FOR YOU is a teen romance from bestselling author Ashelyn Drake, where one girl will risk everything to find her perfect match.
My Review:
Meg is having a hard time. She can't get over the fact that her ex-boyfriend cheated on her. She now has a wonderful boyfriend, Ash, but she can't seem to shake the feeling that she can't get hurt again. She spends the time conflicted with her own feelings about Ash and her crush of two years, Noah. What she soon comes to find out, is just how much you have to lose if you don't sort out your heart.
I thought this book was really cute. I felt bad for Meg a lot of the time, but at the same time, I felt she brought it on herself. She kept telling herself what she needed to do, but when it came down to it, she never went through with any of it. Those decisions ended up causing her a whole lot of pain that would have been unnecessary had she listened to what she was telling herself.
Ash was a sweetheart. I loved following him and all that he did. I understood why he was getting mad, I would have been too. I knew Meg's side and knew that she was doing her best, but she still at times was inviting things in when she didn't realize it. Ash saw all of this, and of course got upset. Who wouldn't. As I read through the book I was shocked at the things that Ash was doing and confused by them, it seemed weird to me. Of course things all got told and you figure it all out, so I was fine :)
Noah was pushy to me. I know he was meant to be this way, but I had a hard time with him for most of the book. I wanted him to just go away, but since this book even says in the synopsis that she has two guys, it is easy to say he doesn't go anywhere. Even with Meg saying how sweet he was, I just had this feeling something was up. You of course learn more about him and decide he isn't so bad, but that doesn't mean I was Team Noah either.
This book was very much centered around the school. They were either in the hallways at school or were at one of the sport practices or games. They are here or there at a house, but most of the time, it is dealing with school.
I really liked the flow of the book. It was easy to keep going and not want to stop. Some books feel like they drag on forever, but this one was quick paced. This is one of the first books that I read on my new Kindle and I am glad. It was so easy to press the little tab to go to the next page and keep the flow going.
I had a slightly hard time connecting with the characters. I liked them, they weren't bad by any means, even with Meg and her insecurities. I just didn't form a strong bond with them like I do some other characters. I still loved the message behind the book of not letting things hold you back.
The ending of this one was great. It was still an open ending, but one that you could easily figure out the pieces. I've had bad luck with endings recently, so it was nice and refreshing to get an ending I could live with.
This was a cute book with a great meaning behind it. I ended it knowing that I could get through anything as well, and that I needed to stop letting the past affect my future. I need to learn from my mistakes and use them to grow. I think this book is not only great for someone who is just looking for a fun quick read, but also someone who could use a little pick me up in their life. Sometimes you don't know that is what you need until you get your hands on a book like this.
_____________________________________________


About the Author


Ashelyn Drake is a New Adult and Young Adult romance author. While it's rare for her not to have either a book in hand or her fingers flying across a laptop, she also enjoys spending time with her family. She believes you are never too old to enjoy a good swing set and there's never a bad time for some dark chocolate. She is represented by Sarah Negovetich of Corvisiero Literary Agency.
________________________________________