This week I was good, I haven't bought anything over 99 cents and even then I only bought one book that cheap, the other book I bought was technically free :) Most of my books were even given to me for review or were a gift to me for my Swag September I am doing all next month. If you don't know what Swag September is, Click Here to go see what it is all about! There will be lots of giveaways during the month!!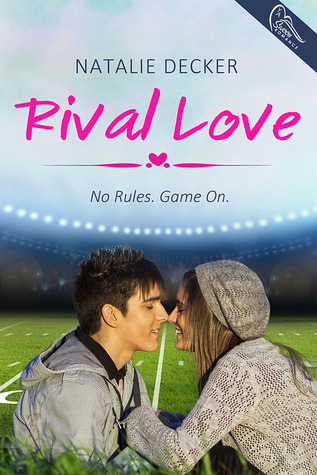 Rival Love




by: Natalie Decker





|

Goodreads

|



Skylar Fletcher is a proud Harris Academy Bulldog! She has everything she's ever wanted: a perfect boyfriend, great friends, and her dream college waiting for her in the fall. But nothing lasts forever. Skylar's world shatters when her mom decides it is time to move and drags Skylar, kicking and screaming, into Bobcat territory.

At Delmont High School, home of the Bobcats, Skylar has no friends and is often bullied. To make matters worse, her home life sucks thanks to all-star quarterback Caleb Morgan, nephew of her mom's live-in boyfriend.

At first Skylar and Caleb want nothing to do with one another. But they soon discover they're not that different after all--and each is harboring a secret attraction to the other. But can a Bulldog and a Bobcat ever really be more than friends? And are Skylar and Caleb willing to risk everything to find out? Rival Love is a debut young adult contemporary romance from Natalie Decker.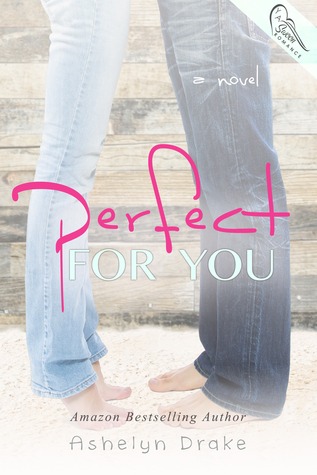 Perfect for You
by: Ashelyn Drake



|

Goodreads

|



Sophomore year in high school comes with its own set of problems. You're no longer a freshmen, but you're still two years away from ruling the school. So, you sit and languish in a kind of purgatory until junior year, when things start to get interesting.

That is, unless during your sophomore year, you find your boyfriend making out with another girl in front of your locker. Then, interesting takes on a whole new meaning, and that's what happened to seventeen-year-old Meg Flannigan. It's no wonder her self-esteem suffered a major hit.

Now a senior, Meg catches the eye of not one, but two guys at school (I know, right?). They happen to both be gorgeous, and each vies for her attention in the most flattering of ways. Sounds good, right? Not if one of the guys is her boyfriend, and the other one wants to be.

Meg doesn't want to lose Ash. They've been together for almost five months, and she's falling in love with him. But Noah. Ah, Noah. He's the irresistible guy Meg has been crushing on for two years, and she isn't ready to send him away either. But stringing both along could have disastrous results, leaving Meg in the cold once again.

One thing's certain. Meg needs to decide between Ash and Noah soon, or she'll lose her perfect match forever.
Louder Than Words
by: Iris St. Clair



|

Goodreads

|



Disappointment has been on speed dial in Ellen Grayson's life lately. Her dad's dead, her mom is numbing the grief with drugs and alcohol, and her so-called friends are slowly abandoning her. Trusting a popular teacher with her troubles should have been safe, shouldn't have led to an unwelcome seduction attempt, shouldn't have sent her running to the girls' bathroom for the final moments of her Junior year. Lesson learned. Best to keep all the sordid details of her life to herself.

Enter Rex Jacobi, a cocky teen recently transplanted from New York and fellow summer camp employee. Though his quick wit and confidence draw her in, she's not letting him get too close, not til she's sure she can trust him. By the time Rex's charming persistence wears down her resistance, it's too late. He's put Ellen on the perma-pal shelf and shifted his romantic attentions to her arch-rival. Even worse, the teacher who tried to seduce her is still misbehaving with impunity.

With her ability to trust as shaky as a chastity vow on prom night, Ellen must decide if she has enough remaining courage to speak up about her teacher and risk retribution, to tell Rex how she feels and risk heartbreak, or hold all her secrets inside, the only safe place she knows.
Gifted:
Breakaway
by: Lindsay Paige and Mary Smith



|

Goodreads

|

Amazon | Barnes and Noble |

Levi Carr is captain of the Roxboro University Lions hockey team. His rival is James Wayne University and their captain, Trevor McCarthy. After an incident in high school and his mother's death, Levi does whatever he can to make McCarthy's life a little harder. When leaving the rivaling campus one night, Levi meets one person who can unknowingly help him mess with McCarthy.

My one job in this is to mess with McCarthy's head and all it has done is mess with mine.

Presley McCarthy lives in the shadow of her twin brother, Trevor. After being separated when their parents divorced, all Presley heard about was Levi Carr being a bully to Trevor. Now in college, Presley is trying to be her own person, but when she meets Levi Carr, it all changes. But will the changes be good or bad?

He is nothing like my brother described. Maybe I've been wrong all along.
You Before Me
by: Lindsay Paige



|

Goodreads

|

Amazon

|

Barnes and Noble

|



She's too young for him.
He's too good for her.
She seduces him away from the gentleman he tries to be.
He leads her to her own hopes and dreams.

Ryan Kavanaugh isn't the kind of girl guys bring home to their moms. She'll have sex on the first date, she'll drop the f-bomb without a second thought, and she'll answer the door in jeans and a bra.

Gabe O'Connor is exactly the kind of guy girls want. He's a police officer and the classic good guy who takes his family's opinions seriously and strives to be the best person he can be.

Two people in two different places in their lives, both being pulled in directions they don't want to go. Ryan and Gabe both struggle with what they desire in life and in each other as well as what their families expect of them.

Sometimes, you have to think of yourself first.
Bought:
Crossing the Ice
by: Jennifer Comeaux

| Goodreads | Amazon | Book Depository |

Falling hard never felt so good.

Pair skaters Courtney and Mark have one shot left at their Olympic dream. They vow not to let anything get in their way, especially not Josh and Stephanie, the wealthy and talented brother and sister team.

The heart doesn't always listen to reason, though...

The more time Courtney spends with sweet, shy Josh, the harder she falls for him. But they are on opposite sides of the competition, and their futures are headed in opposite directions. Will their friendship blossom into more or are their paths too different to cross?
Those Four Letter Words
by: Christina Channelle

| Goodreads | Amazon | Barnes and Noble |

Eighteen-year-old Jade Reamer is a tough girl with a reputation to prove it. She loves three people and three people only: her brother, her boyfriend, and her best friend. Everyone else is irrelevant.

That is … until Reed enters the picture again.

Suddenly things start to spiral out of control and things aren't as they seem. Life is no longer simply black and white, love versus hate. Suddenly, it's hard to figure out which of those four letter words is true.

Especially when she can't look away from those devil eyes.

I love you. I hate you. I love you. I hate you. Which is it? I don't even know anymore.

Well, let's find out.
_____________________________________
That's all I got this week!!