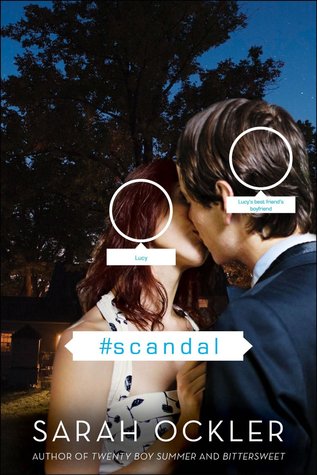 #scandal
Author:
Sarah Ockler
Release Date:
June 17th, 2014
Publisher:
Simon Pulse
Rating:
2 out of 5 stars
Pages:
401
Format:
Hardcover, bought
|
Goodreads
|
Amazon
|
Book Depository
|
Synopsis:
Lucy's learned some important lessons from tabloid darling Jayla Heart's all-too-public blunders: Avoid the spotlight, don't feed the Internet trolls, and keep your secrets secret. The policy has served Lucy well all through high school, so when her best friend Ellie gets sick before prom and begs her to step in as Cole's date, she accepts with a smile, silencing about ten different reservations. Like the one where she'd rather stay home shredding online zombies. And the one where she hates playing dress-up. And especially the one where she's been secretly in love with Cole since the dawn of time.

When Cole surprises her at the after party with a kiss under the stars, it's everything Lucy has ever dreamed of… and the biggest BFF deal-breaker ever. Despite Cole's lingering sweetness, Lucy knows they'll have to 'fess up to Ellie. But before they get the chance, Lucy's own Facebook profile mysteriously explodes with compromising pics of her and Cole, along with tons of other students' party indiscretions. Tagged. Liked. And furiously viral.

By Monday morning, Lucy's been branded a slut, a backstabber, and a narc, mired in a tabloid-worthy scandal just weeks before graduation.

Lucy's been battling undead masses online long enough to know there's only one way to survive a disaster of this magnitude: Stand up and fight. Game plan? Uncover and expose the Facebook hacker, win back her best friend's trust, and graduate with a clean slate.

There's just one snag—Cole. Turns out Lucy's not the only one who's been harboring unrequited love...
My Review:
Lucy is the quiet girl who spends her time at home mainly killing zombies. For her best friend, Ellie, she goes to prom with her best friend's boyfriend, Cole. Lucy doesn't tell Ellie that she has been in love with Cole for 4 years. She has held it in for a long time. When things go wrong after prom, Lucy has her life put out on Facebook. Now she has to go through the end of her senior year with the name calling from her classmates with the feeling of losing all the people she once called friends....
This was a book that once I first heard about it, I HAD to have it. I pre-ordered it and stalked the mailbox for it to show up after I waited months for it to finally release. I was in a the middle of series when it finally released, but once I was done with it, I had to run straight to this book. With all that said, I was pretty dang excited to get to this book, once I finished this book however, I was very very disappointed.
I had heard so many great things about Sarah Ockler. I even have Twenty Boy Summer on my shelves I just have yet to get around it. I tried to read it a few years ago but wasn't in the mood for it, I have yet to go back to it. So I decided to just wait and read this book as her first book, it sounded so good!
The characters are hard to relate to. Cole seems alright, he seems to be the only one that is the same throughout the whole book. He tries to break through Lucy's walls throughout the whole book no matter her mood swings she is having that day. He seems like a genuinely good guy. He is a character that I actually liked and wanted things to work out with Lucy for him, not her.
The members of (e)VIL were all over the place. Even though they were saying they were anti technology, they were all closet cyber nerds. I thought that was pretty hypocritical of them. They wouldn't even make flyers on a computer to insult Lucy, they sat there drawing each one, but then would go home and do nothing but sit on a computer or xbox. It made absolutely no sense. Towards the end of the book, you find out even more of what they can do and find out they are pretty much whizzes of technology.
Then there is Ellie, the girl who was no longer with her boyfriend but was keeping it from someone she considered her best friend. When the kiss happens with Lucy and Cole and Ellie finds out about it, she then goes on friendship strike. I am like okay, you didn't want the guy but you also want no one else to have the guy. You would think your best friend's (Lucy and Cole's) happiness would matter to her and that she would rather him be with Lucy than anyone else, but no she was giving Lucy up instead. It made me mad. Throughout the whole book she just ignored her and acted like Lucy was the only one at fault.
I didn't mind Jayla, Lucy's sister much. She seemed pretty cool even when she was about to hit rock bottom. She was one of the other characters I really didn't mind. Franklin seemed kind of sketchy. I didn't know what was up, but I felt like it was something. The more it went on, the more I thought I figured it all out about him and I was actually right though I didn't think I was at the time. Marceau seemed pretty weird to me. He was a French Canadian foreign exchange student but yet he chased Lucy everywhere. She is a girl who dies her hair, has a nose ring, wears zombie shirts and is almost always in a pair of black boots. She is not the kind of girl I would see him going after, so it is hard to feel like his affections were real for me. I dunno, just my opinion I guess. Olivia is just your usual mean girl adding fuel to the fire, she was a minor character even when a lot of the blame was being put on her. Griffin seemed off through the whole story. She came across as a girl who hops from guy to guy. Then when all the things happen she says she isn't taking sides but refuses to acknowledge Lucy when she is around Ellie, even gives the cold shoulder to her. She seemed to not go through with anything she says.
Then the principal is supposed to be helping the situation, but at first she blamed Lucy. Then when Lucy is proven to be the victim, she puts out a notice about no cell phones or anything yet the day it is printed the students still have their phones out all the time. None of them get in trouble or have them taken away even with the threat. If the principal really wanted the problem done, she really needed to try harder to fix it all.
I saved the best for last, well the worst of the rant of characters I guess :) Lucy. I couldn't get into her character. She was this rugged girl who would rather be home killing zombies and tried to act all tough. Then when the pictures of her get out kissing not only one guy of the night of prom, but 2, as well as finding her in bed with one of them as well kills her reputation. The term Slut goes around a lot. I will elaborate on this some more later in this review. With all this happening though she just curls into herself. Then she has Cole trying to be there to help as well as a few other people and she refuses all of it. She just seemed to almost like the attention even when she said she didn't. All she did was complain and want to get back at the bully or at least find out who did it, instead of trying to move on and make the best of the rest of her senior year. She was such an annoying character. Everything to her was a metaphor of something to do with zombies. The book also had lines put in it of what Lucy was thinking to herself, and it was rather annoying to read her thoughts too. Most books it would work, but this character was so un-relatable that it just made it even worse. I was tired of hearing about the zombies she wished she was killing or how people didn't get zombies right.
This book had a good premise to it, I really wanted to read it, but it was done all wrong. I felt like the book was more an idea of what she wanted to write but wasn't able to get the right words or thoughts out onto the pages. It was all thrown together and choppy. you couldn't get into the pages because of the way it was written and the voice behind Lucy. She really did kill the story. The investigation was was partly kept me reading the story, but even then it was all over the place. Things would pop up later that it seemed like you were supposed to already know even when it wasn't mentioned anywhere else before that. How are you supposed to work through the investigation yourself when the facts that are given to you aren't even reliable. If it wasn't for the fact that I wanted to know who put up the pictures, this would have been a DNF book for me.
The book is also supposed to be on a love that is very strong not only for Lucy but for Cole. Cole even admits in front of everyone that he is in love with Lucy and has been for a while and she never said it to him. She did say it in a email to Miss Demeanor but it was never put up on the site for anyone to read. She finally had the guy she had been dreaming of having for YEARS and here she was just letting him slip away. The love just didn't seem like it was real. If you are going to write a book, especially one with an annoying main character, you need to at least have the reason people were reading the book to be believable. The love was horrible. Even the ending with it wasn't good. It was also just thrown out there without any form of a real ending.
Everything about this book just made me hate it. I hope this book is just a fluke and I end up still liking the author's other works. I hope you all end up liking the book more than I did, but I at least wanted to put out my honest opinions for you all to read.