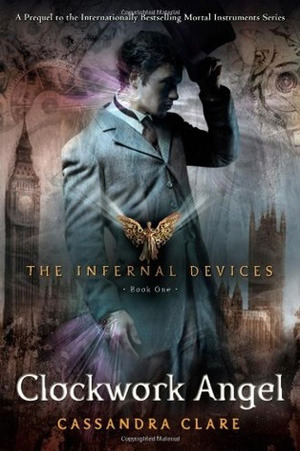 Clockwork Angel
Author:
Cassandra Clare
Release Date:
August 31st, 2010
Publisher:
McElderry Books
Rating:
5 out of 5 Stars
Pages:
476
Format:
Hardcover, bought
|
Goodreads
|
Amazon
|
Book Depository
|
Synopsis:

In a time when Shadowhunters are barely winning the fight against the forces of darkness, one battle will change the course of history forever. Welcome to the Infernal Devices trilogy, a stunning and dangerous prequel to the New York Times bestselling Mortal Instruments series.

The year is 1878. Tessa Gray descends into London's dark supernatural underworld in search of her missing brother. She soon discovers that her only allies are the demon-slaying Shadowhunters—including Will and Jem, the mysterious boys she is attracted to. Soon they find themselves up against the Pandemonium Club, a secret organization of vampires, demons, warlocks, and humans. Equipped with a magical army of unstoppable clockwork creatures, the Club is out to rule the British Empire, and only Tessa and her allies can stop them....
My Review:
I came into these books already understanding how Cassandra Clare writes. Her books tend to start off slow and as the series/trilogy progresses, the books get more and more intense. I can say I feel like this trilogy will be just the same.
The start of this book was super slow. There were also some terms that had to be used in the time frame that we are reading about, so I ended up having to use a dictionary to look some of them up to understand. Like the word parasol. I had no idea it was an umbrella. I thought it was a purse. I went a good chunk of the book thinking Jessamine carried a sharp purse around and that just didn't make sense to me. I finally looked it up and understood a lot better.
I didn't mind the slowness of the book though. It let you get a grasp on the characters and the situations that were arising. It had just enough going on that I had to keep reading it. Clare does a great job of giving out little hints of things that make you just HAVE to know what it all means. Some of them are cleared up in this book, and others I am sure will be cleared up in one of the other books.
Jem is a sweetheart, I like his character very much. I also feel horrible for him with what he has to go through. But with that said, I don't see him being the one that Tessa ends up with. I don't see them to be too compatible. That isn't to say there isn't attraction, I can see them possibly dating in another book, but I just don't see them being soul mates either.
Tessa is a character that I actually really like to read about. She isn't annoying like most female protagonists can be. I feel connected with her and wish her the best through the stories to come. I really want to know what she is. It isn't cleared up in this book, so I really hope it is said in the next one. I NEED TO KNOW!! This character is very strong willed. She doesn't give up and she sacrifices herself for the good of others. I love that about her. I also like that she doesn't take Will's crap.
Will. Oh gosh Will. I hear so many people say how awesome he is and as of right now I have to agree. He tries to act like nothing bothers him, he pushes those away that actually do care about him. I don't know why this is, but I hope it comes out later on. He is a difficult one. Tries to play the ladies man card, but I don't buy it so much. I think there is so much more to him that just makes me fall for this character. I am pretty sure I am on Team Will, though I will take the next book to know for sure.
I am somewhat glad that I read The Mortal Instruments first. There was more explanation in that book about the world. This one makes it seems like you should already know about it. I would be more confused if I would have waited to read this trilogy first. Bits and pieces come out throughout the book, but it follows more of the story of the characters than it does about the world.
I am sick as I am typing this, and I was sick as I was reading it. I would lay in bed and sleep and then force myself to wake up so I could read some more. Once I got down to sitting and reading, I read this book in 2 days. It is also my birthday weekend, and I have a lot going on for it, but I know I will be wishing I could just be at home reading the next book. I am so glad I finally picked up this book and know once I finally get time again I will be plowing through the next 2 books.
I enjoyed this book better than the TMI so far. I like them both, but I feel closer to the characters in this trilogy than I did the characters in TMI. So anyone that said they didn't like TMI don't give up on this trilogy, you might like this one still!!