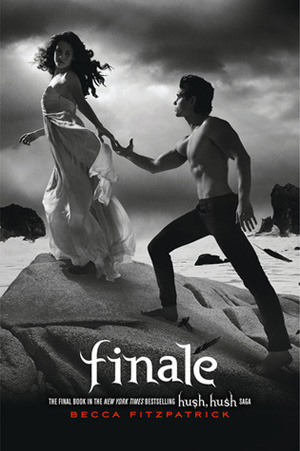 Finale
Author:
Becca Fitzpatrick
Release Date:
October 23rd, 2012
Publisher:
Simon and Schuster
Rating:
5 out of 5 Stars
Pages:
454
Format:
Hardcover, Bought
|
Goodreads
|
Amazon
|
Book Depository
|
Synopsis:

Will love conquer all?

Nora and Patch thought their troubles were behind them. Hank is gone and they should be able to put his ugly vendetta to rest. But in Hank's absence, Nora has become the unwitting head of the Nephilim and must finish what Hank began. Which ultimately means destroying the fallen angels - destroying Patch.

Nora will never let that happen, so she and Patch make a plan: lead everyone to believe they have broken up, and work the system from the inside. Nora will convince the Nephilim that they are making a mistake in fighting the fallen angels, and Patch will find out everything he can from the opposing side. They will end this war before it can even begin.

But the best-laid plans often go awry. Nora is put through the paces in her new role and finds herself drawn to an addictive power she never anticipated.

As the battle lines are drawn, Nora and Patch must confront the differences that have always been between them and either choose to ignore them or let them destroy the love they have always fought for.
My Review:
This book was a great conclusion to the series. I am always afraid of the last book of a series, because I don't want all the time invested in to the book to end up worthless. If the ending sucks, it will have ruined the whole thing for me. Luckily, the ending was fantastic and kept me sucked in, needing to know what happens.
The author does a great job with the ending in the way that she wraps up almost everything. You don't get to know specifics of who is living where or anything, but you at least get closure on most of the people in the story. The ending is also very intense. She makes you think one thing happens and then switches it to something different. I didn't know what was really going to happen throughout the entire book. I would try to guess, but it was never right. I like books that aren't easy to figure out.
Nora annoyed me in parts of this book. She was doing things that she was getting onto Patch for. I felt she was being hypocritical through most of the first half of the book. She was mad at Patch for possibly keeping secrets from her, yet she had a lot of secrets of her own. It got me pretty angry at times, but I knew I needed to keep going and that things would sort themselves out. She eventually won me back over :)
Nora has so much going on within this book. She never seems to get a break. The good thing is, she has Patch by her side the whole time. Even when she thinks she is alone, she ends up getting help from someone. She was able to find out what real friendship was from more than just Vee. I liked getting to know some of the other characters that were kind of side characters in the other books. Scott specifically gets to earn respect from all of us. He comes through quite a bit in this book and it is really nice to read. He kept surprising me more and more throughout the book.
Patch stole my heart in this book. I loved him in the other books, but he won me over hard in this book. I wish I could have Patch all to myself, but sadly he is just in a book :( Even when there is stuff going on to make you discredit him, I kept thinking that it was false information on him. He had changed too much to turn into a jerk at this point. I stayed strong on Team Patch and I am glad I did. He's wonderful!
There is plenty of suspense within this book to keep you sucked in. I woke up this morning ready to read a little bit of it and then maybe watch a movie, but I wasn't able to stop. I ended up plowing straight through all the pages. This series is definitely worth the read and I hope all of you that haven't read it, go out to get sucked into the story. :)