This is a new weekly meme that Kristalyn over at The Sarcastic Palmtree and I, Amber at Paradise of Pages, came up with. We have been wanting to re-read some of our favorites but feel overwhelmed by all the other new books coming out that our re-reads get put to the side. That is how we came up with this meme, we decided we don't want to put them aside anymore, so we will be taking turns putting up our reviews on the re-reads we do throughout the month. This does not mean we won't keep up with recent releases as well, it just means we will make more time for those we have read before as well.
__________________________________________________
So here is how this meme will work:
Each week the co-hosts will trade off with recapping when it is a re-read or what they have heard so far about the book and the other co-host will put up their review.
The participants can read anything that they remember reading in the past, or something that they have wanted to read that has been around for a while and just haven't gotten around to reading it yet for whatever reason.
Participants can decide if they want to recap the book before reading it or just put up a review of what they read.
Anyone can join in, just please link back to our blogs as well as add your name to the linky so we can hop around and see what everyone is reading.
Please put our banner on your post as well, so we all look the same!
We ask you kindly to follow BOTH of our blogs.
Most importantly remember to just have fun! :)
__________________________________________________
We will be pro
viding each week a linky that you will be able to also link your posts for us to view. All we ask is for you to put up our banner as well as a link back to
BOTH
hosts on your post.
__________________________________________________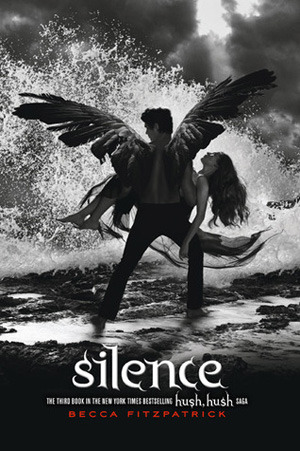 Silence
Author:
Becca Fitzpatrick
Release Date:
October 4th, 2011
Publisher:
Simon & Schuster
Rating:
5 out of 5 Stars
Pages:
448
Format:
Hardcover, Bought
|
Goodreads
|
Amazon
|
Book Depository
|
Synopsis:

WHEN SILENCE IS ALL THAT'S LEFT, CAN THE TRUTH FINALLY BE HEARD?

Nora Grey can't remember the past five months of her life. After the initial shock of waking up in a cemetery and being told that she has been missing for weeks - with no one knowing where she was or who she was with - she tried to get her life back on track. Go to school, hang out with her best friend, Vee, and dodge mom's creepy new boyfriend.

But there is this voice in the back of her head, an idea that she can almost reach out and touch. Visions of angel wings and unearthly creatures that have nothing to do with the life she knows.

And this unshakable feeling that a part of her is missing.

Then Nora crosses paths with a sexy stranger, whom she feels a mesmerizing connection to. He seems to hold all the answers...and her heart. Every minute she spends with him grows more and more intense until she realizes she could be falling in love. Again.
My Review:
Read my recap for this book
Here
.
I seem to need to start this review with a confession. I didn't read this book. I used it as Memory Lane Monday because I was 95% sure that I read this before. I really thought I read the first 3 books and just didn't get to the last book. I was wrong. I knew about halfway through the book that there was no way I read it before. I would have remembered something along the way, but I had nothing. I already did a recap for this book though, so I decided to go ahead and do the review here anyway. I do want to say I am sorry for being wrong in thinking I read it before.
Now that that is out of the way. I LOVED this book. I was so sucked in. I did the few things I needed to get done then I sat down with the intent of finishing the book today. That definitely happened. I even sat around after the book just staring at the ceiling as I replayed parts of the book in my mind.
It was hard for me to see Nora without her memory. I was like NOOOO WHAT ABOUT PATCH!!!! I saw in the synopsis she falls in love with him all over again and it made me smile. It was nerve racking though watching everything unfold all over again.
Patch does his best to stay away, or at least show he is staying away. He is there the whole time she just doesn't know it. I couldn't be mad at him at all for the way he was acting because I know he was doing it all for her. It makes you melt just thinking of his dedication to her. He would rather be in pain himself than for anything to happen to her.
I did hate how everyone was hiding things from her. They thought they were helping her get over things, but they were just hurting her and letting her know that she couldn't really trust anyone. She eventually gets people in her life that she can trust or finds a way around it, but it was still very frustrating. I am like the poor girl has been through enough, she at least deserves the truth.
This book definitely is full of suspense. The other books had it too, but not like this one. The whole time you are wanting to find out how she finds things out. Then when she does figure things out, you have to then wait some more to see what she is going to do about it. It is nerve racking. There is no way you can put the book down once you start. I wasn't going to go to bed until I knew how it ended. It was slow in parts, but not in the way that you are able to walk away for a while. She does a great job of keeping you sucked in the whole time.
This book is pretty much set in the same place as the others. There is some of her at school, a lot at her house, and then the rest is her at a few places around town. I liked how she kept the places similar so you could still relate to where she was. I hate when authors throw in too many new places and it makes it hard to follow. This doesn't do that at all, it is easy to follow :)
I was not able to guess the ending. I could somewhat guess how it was going to end in a way, but I couldn't tell you how it was all going to happen. I was in the dark through most of the book. I love books that keep me guessing and this book definitely did. I couldn't figure really anything out and it kept me reading even more.
Anyone out there who loves paranormal or a suspenseful romance would love this book. It will keep you sucked in to the final pages!
__________________________________________________
We will be back next week with our review or recap!
What about you? What do you remember about the time that you read this book/series?
Be sure to leave your links below :)