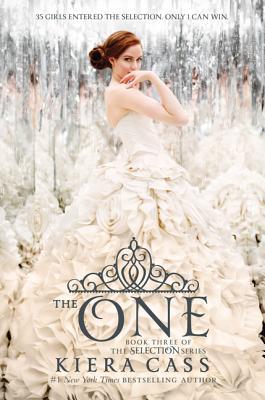 The One
Author:
Kiera Cass
Release Date:
May 6th, 2014
Publisher:
Harper Teen
Rating:
5 out of 5 Stars
Pages:
323
Format:
Hardcover, Bought
|
Goodreads
|
Amazon
|
Book Depository
|
Synopsis:

The highly anticipated conclusion to Kiera Cass's #1 New York Times bestselling Selection series, The One will captivate readers who love dystopian YA fiction and fairy tales. The One is the perfect finale for fans who have followed America's whirlwind romance since it began--and a swoon-worthy read for teens who have devoured Veronica Roth's Divergent, Ally Condie's Matched, or Lauren Oliver's Delirium.

The Selection changed America Singer's life in ways she never could have imagined. Since she entered the competition to become the next princess of Illéa, America has struggled with her feelings for her first love, Aspen--and her growing attraction to Prince Maxon. Now she's made her choice . . . and she's prepared to fight for the future she wants. Find out who America will choose in The One, the enchanting, beautifully romantic third book in the Selection series!
My Review:
I wasn't sure what to expect with this book. I was so scared that I would get to the end of the book to have the entire trilogy end in a way I hated. I got lucky, I loved it. I had to re-read the ending a few times, because I just couldn't wipe the smile off my face.
In the other books I found America slightly annoying, that wasn't the case this time around. She has changed so much and come into such a wonderful lady. No matter what was happening to her, she kept her head held high. It was so nice to see her realize who she could be. She had so much go on within the whole story, but this book definitely put some more onto her, but she took it all.
Aspen didn't even annoy me as much in this one either. I didn't like Aspen through much of the series, especially after reading The Guard, but this book changed my mind. Even he grew into his own person and shocks us all in the end. I was happy the way it all ended up.
Maxon...what is there to really say about him other than he is wonderful. He messes up sometimes, everyone does, but he follows his heart to the end. Even when you think he won't, he comes through when you need him to, and that is all that matters. He is the epitome of what a real prince should be.
This book is a big shocker of a book. Just when you think things are going to slow down and work out, another curve ball gets thrown. Usually this makes me mad, but like America, I took it in stride and was hopeful I would get a great ending. I kept being swept around within the book, not sure where things were going. It was crazy how much happened within this book. She has so much happen within the book that you just can't stop reading it. She sets some of it up so you know its coming, but others she holds quiet till the end and leaves you speechless. It was nice to still be surprised through the pages. I was in shock several times and I still can't believe some of it. The last 50 pages will definitely suck you in. There is such a huge climax at the end that it is unbelievable. Part of the ending was definitely sad. If I wasn't wanting to what happened so bad, I think I would have cried, but my need to know the ending helped me keep back the tears.
Kiera does a wonderful job with the ending. She gives you enough to make you happy and know how it is going to go, but she also leaves it slightly open in a way that you can figure out for yourself what is going to happen to the country.
It has been a little while since I had a book that had captured me so deeply. The first few books in this series, I liked them, but I didn't feel the insane pull towards them as I did this book. I started this book yesterday, read as much as I could before bed. I sat there debating on finishing the book that night. Since I am a preschool teacher and kiddos lives are in my hands, I felt it best to get the sleep and not be tired. It was a very tough decision to make, though. I fell asleep dreaming about it, I went to work thinking about it. I couldn't wait to get home so I could get my hands on it again. I did the few things I needed to do, then ran outside to sit in my chair and devour it. I was sucked in. For that amount of obsession, I applaud you, Kiera.
This book/series has a love story, but I have found in this book that there is so much more to the story than that. There is hope, there is a way of showing how things should be in the world, there is friendship, there is loyalty. It is so hard to explain but this is a book that I feel has changed my life. This is a book that I know I will be re-reading sometime soon because I will need to revisit it all over again.