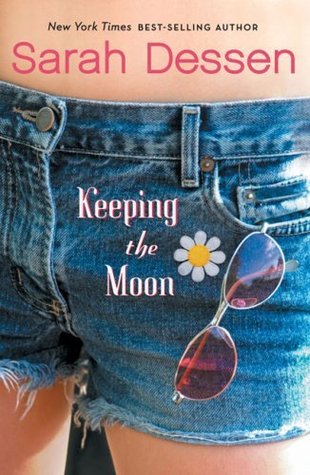 Keeping the Moon
Author:
Sarah Dessen
Release Date:
May 11th, 2004
Publisher:
Speak
Rating:
5 out of 5 Stars
Pages:
228
Format:
Paperback, bought
|
Goodreads
|
Amazon
|
Book Depository
|
Synopsis: Colie expects the worst when she's sent to spend the summer with her eccentric aunt Mira while her mother, queen of the television infomercial, tours Europe. Always an outcast -- first for being fat and then for being "easy" -- Colie has no friends at home and doesn't expect to find any in Colby, North Carolina. But then she lands a job at the Last Chance Cafe and meets fellow waitresses Morgan and Isabel, best friends with a loving yet volatile relationship. Wacky yet wise, Morgan and Isabel help Colie see herself in a new way and realize the potential that has been there all along.
My Review:
I have read several of Sarah Dessen's books, but this is one I never got around to. Quite frankly, the cover just didn't do anything for me. It just seemed generic along with the synopsis. I bought the book strictly for it being by Sarah Dessen, but it sat on my shelf for years and years. It might even quite possibly be the oldest unread book on my shelves, until now that is.
The synopsis for this book just did nothing for me. I wanted a type of romance that typically goes with her books, but I didn't hear about any of that on the book. I took it as a book that was nothing but about friendship and learning who she is. Now, that isn't a horrible thing, it just hasn't been something I have really been in the mood to read. I ended up pulling this book from my TBR jar a couple months ago. I still tried to put off reading it, even almost decided to pick another book. I told myself no, that the whole point of the jar is to read stuff that has been around a while. I also told myself that the book was smaller compared to a lot of my books, so I could plow through it if I wanted to and not take too much time to read it.
My decision to read it was a great one. I LOVED this book. There is the phrase of "kicking yourself in the ass". I definitely did that with this book. The synopsis doesn't do this book justice at all. It is soooo much better than anything they wrote about this book to get you to read it.
It took me a little while to get into the book and get out of the mindset that I was going to hate it. Once that was gone, nothing was stopping me. I woke up and read it first thing and didn't stop until I was finished. The meaning of this book is super powerful and Dessen delivers it in a way that isn't intimidating but empowering.
This is about to get personal about me, but I want to share it with you all the same to understand my take on this book a little more. I share a lot of the things Colie deals with. My mom didn't become famous or anything, but I was picked on horribly through school. When you went to school and there was a girl that was either ignored the whole time or made fun of on an everyday basis with no friends, that girl was me. I had just a small amount of people that even talked to me, but even then it was the ones who felt bad for me. I was the girl who tried in school for my grades, was very shy and quiet, and I also was super small. I wasn't even over 5 foot when I was in high school until my junior year when I sprouted up to 5'8". They still couldn't let my small image go. Since I was so small and shy I was an easy target. I spent many nights crying myself to sleep. I even asked my mom to let me transfer schools so no one would know me anymore. There was nothing wrong with me, I was pretty, I was skinny, I was smart, and I was rather friendly. I just didn't give off that persona because my self esteem was probably as low as you could get it. Even when I did manage to let a guy or two into my life, it was only because I was at work with them and let them see me for who I was at work. I still didn't feel worthy enough and always wondered why they would pick me when anyone else other me was better for them.
Colie gives off that same thing. She tries to hide behind her hair and her lip ring. She would keep her head down and try not to let anyone get to know her. She found everyone to be horrible about the things they said about her, as well as her aunt. She saw her aunt had no issues with what was being said about her, and Colie thought she must have mastered how to see unphased and had to go home and cry it off later. She held this huge weight over her, that kept her from being able to let anyone see the real her.
It was so nice to see her feel quite how I did, though I didn't change my appearance like she did, I just tried to be in the background as much as possible. I realized a lot of the message in this book years later in life, and it is still honestly something that I struggle with even now.
My boyfriend is helping me see how wonderful I am and helping me come out of my shell. In this book, Colie finds people in her life that help her do that as well. Even some of the people that are rude to her in the beginning end up being someone that really helps her in her way. It is so refreshing. She also sees that sometimes even she judged people by appearance and had to learn to get to know anyone for who they are, not how they look on the outside. Once she finally let all of that go, she shined brighter than anyone.
I now have a star shining over me thanks to this book. I can't wait for my boyfriend to get home so I can give him a huge hug and tell him thank you for all he has done for me over the years and will continue to do for a long time to come. I see myself so much better and don't feel like hiding so much anymore.
This book helps you to see that you are you, no matter what that will never change. It is up to you to make that person to who you want to be. I am me, and that is all I ever will be. I need to make the best of my life and be happy with who I am. The hiding needs to stop and I need to show the world who I am.
Anyone who has struggled with their self esteem needs to read this book. I don't know if it will stick with me forever, I might have to pick up this book from time to time in order to keep the message in my head, but it has meant a great deal to me. My self-esteem was worse than I have ever known for anyone else, and it has helped me, so I know it can help anyone else.
I hope you loved this book if you read it before, and if you haven't, stop what you are doing and run out to get you a copy. It is well worth it and the message is stronger than any I have ever read before.