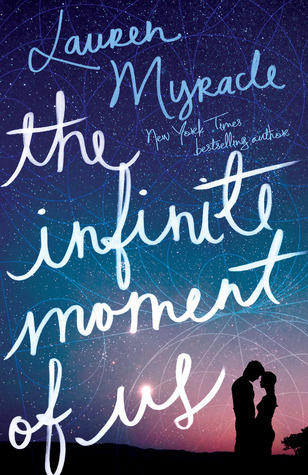 The Infinite Moment of Us
Author:
Lauren Myracle
Release Date:
August 27th, 2013
Publisher:
Amulet Books
Rating:
4 out of 5 Stars
Pages:
316
Format:
Hardcover, bought
|
Goodreads
|
Amazon
|
Book Depository
|
Synopsis:

For as long as she can remember, Wren Gray's goal has been to please her parents. But as high school graduation nears, so does an uncomfortable realization: Pleasing her parents once overlapped with pleasing herself, but now... not so much. Wren needs to honor her own desires, but how can she if she doesn't even know what they are?

Charlie Parker, on the other hand, is painfully aware of his heart's desire. A gentle boy with a troubled past, Charlie has loved Wren since the day he first saw her. But a girl like Wren would never fall for a guy like Charlie—at least not the sort of guy Charlie believes himself to be.

And yet certain things are written in the stars. And in the summer after high school, Wren and Charlie's souls will collide. But souls are complicated, as are the bodies that house them...
My Review:
Wren is a good girl. Always doing what she is told to do from her parents, even being told stuff she likes when she actually hates it. One day she finally has enough and changes her future without her parents knowing. She signs up to defer college and go to Guatemala. Then Charlie comes into her life. She now has the decision to stay or still go, but then is she a failure if she stays behind? All of that could come to an end when the truth about their lives comes out....
I bought this book a while ago, mainly because the cover was gorgeous, but the story sounded alright. I found out a few weeks ago that the book has a lot of sex in it. I was shocked to hear that since it is a YA novel. They were correct though. It had a few detailed scenes in it, but for me, it wasn't horrible. It somehow worked for the story, though I am older. I don't know if I would want my teen to read this if they were a younger teen, but I wouldn't mind from an older teen. Heck, they probably hear worse than this book just going to school.
Charlie has some skeletons. He had a rough past and he is having trouble letting it go. I feel bad for him, but I also got annoyed that he tried to hold everything back from everyone instead of letting it out and working to get over it. He told only one person and it was someone that he shouldn't have told anything to, but he was young and made a mistake, or several, but you know how it goes. I still really liked his character. He is relatable and wins you over. Even when he messes up when with Wren, he still finds a way to fix it all.
Wren is a goodie goodie, but not in a bad way. She still goes out and has fun just hasn't found a guy that interested her. Part of it is her parents sheltered her for so long that now she is trying to break out and become her own person. She still messes up from time to time as well. Instead of talking out how she feels when she is upset, she curls up inside herself and doesn't let anyone in. This does tend to get annoying because you want to just go into the world and just yell at her to stop it, that she is messing up something that she won't be able to handle if she loses it. She gets really needy in parts and tries to stop herself from feeling jealous at times, but she can't seem to help it.
I like the idea of the story. It was really sweet and nice to follow through the story of a first love. It isn't perfect but you can also tell that it could also be true love even though it is a first love. The youth within the main character is what is making tiny bumps in the road, but you can tell things could work out if they learned to just let go. I also liked that they both had baggage of their own. They just didn't know how to deal with it. That is very common with most teens, even though some have it worse than others do.
My reasoning for the 4 stars instead of 5 is one the neediness of Wren. I understand he is her first everything but man, she can get annoying with it. Also it seems to be going well at one point then something would happen, then it would go well again and another dilemma would come. I understand to have some climax to it, but that was a lot just for one book. Then the ending, it ended in a way that you could easily figure out how it would happen, but at the same time, I think she should have continued with the ending at least a little bit. There was so much going on at the end and you never really got closure from that.
This book is still worth the read and I am glad that I own in. I know I will one day come back to re-read it and enjoy it all over again. Anyone out there looking for a cute contemporary with some dark pasts mixed within, this story is for you!