This is a new weekly meme that Kristalyn over at The Sarcastic Palmtree and I, Amber at Paradise of Pages, came up with. We have been wanting to re-read some of our favorites but feel overwhelmed by all the other new books coming out that our re-reads get put to the side. That is how we came up with this meme, we decided we don't want to put them aside anymore, so we will be taking turns putting up our reviews on the re-reads we do throughout the month. This does not mean we won't keep up with recent releases as well, it just means we will make more time for those we have read before as well.
__________________________________________________
So here is how this meme will work:
Each week the co-hosts will trade off with recapping when it is a re-read or what they have heard so far about the book and the other co-host will put up their review.
The participants can read anything that they remember reading in the past, or something that they have wanted to read that has been around for a while and just haven't gotten around to reading it yet for whatever reason.
Participants can decide if they want to recap the book before reading it or just put up a review of what they read.
Anyone can join in, just please link back to our blogs as well as add your name to the linky so we can hop around and see what everyone is reading.
Please put our banner on your post as well, so we all look the same!
We ask you kindly to follow BOTH of our blogs.
Most importantly remember to just have fun! :)
__________________________________________________
We will be pro
viding each week a linky that you will be able to also link your posts for us to view. All we ask is for you to put up our banner as well as a link back to
BOTH
hosts on your post.
__________________________________________________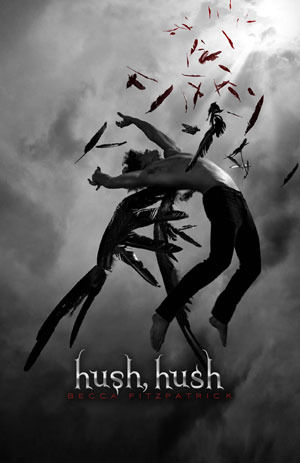 Hush, Hush
Author:
Becca Fitzpatrick
Release Date:
October 13th, 2009
Publisher:
Simon & Schuster
Rating:
5 out of 5 Stars
Pages:
391
Format:
Hardcover, Bought
|
Goodreads
|
Amazon
|
Book Depository
|
Synopsis:

A SACRED OATH
A FALLEN ANGEL
A FORBIDDEN LOVE

Romance was not part of Nora Grey's plan. She's never been particularly attracted to the boys at her school, no matter how hard her best friend, Vee, pushes them at her. Not until Patch comes along. With his easy smile and eyes that seem to see inside her, Patch draws Nora to him against her better judgment.

But after a series of terrifying encounters, Nora's not sure whom to trust. Patch seems to be everywhere she is and seems to know more about her than her closest friends. She can't decide whether she should fall into his arms or run and hide. And when she tries to seek some answers, she finds herself near a truth that is way more unsettling than anything Patch makes her feel.

For she is right in the middle of an ancient battle between the immortal and those that have fallen - and, when it comes to choosing sides, the wrong choice will cost Nora her life.
My Review:
It is amazing how not reading a book for a few years can make you forget so much. I forgot mostly everything. I remembered Patch and that he was kind of a bad boy, I remembered parts of Nora. That was it. It is actually embarrassing at how little I remembered.
The good thing about forgetting so much is it was like reading the book for the first time. I got to be in shock and watch things unfold without knowing how it was going to turn out.
I love Patch. I knew he had this bad boy thing going, but there was just something telling me in my heart that he isn't a bad person really. He might have done some bad stuff, but he still has a good heart. I know that probably makes no sense, but to me, that is how I feel. I am Patch fan, was back when I first read this and I still am now.
Nora annoys me a little. She is so irrational and doesn't seem to think things through. She tries to be strong at times, but ends up caving so much even to herself. I wish she was a stronger character. I don't remember if she gets stronger as the books go on, but I know she is quite a pushover in this book. She is also fighting things that she knows in her heart she shouldn't be but she is still trying to anyway. I just don't understand it. I see how it makes for more drama to suck you into the pages though.
I love the idea of fallen angels. I didn't think I would, but this book has proved me wrong. The idea is nice and I like being able to follow something that I haven't read before. I like the different layers of the angels in this book. I also like the Nephilim. I have heard that term in other books too and they all pretty much are the same thing. Angels that have made babies with a human pretty much.
This series does start off kind of slow. It is mainly Nora fighting to stay away from Patch most of the book. Even though it is slow, it does have me sucked within the pages. There is still enough action going on within the book to keep you intrigued. When there isn't any action going on, the author does a great job of keeping you in suspense to what is going to happen.
I am so glad I decided to re-read this series. I am now off to get sucked into book 2.
__________________________________________________
We will be back next week with our review or recap!
What about you? What do you remember about the time that you read this book/series?
Be sure to leave your links below :)