This is a new weekly meme that Kristalyn over at The Sarcastic Palmtree and I, Amber at Paradise of Pages, came up with. We have been wanting to re-read some of our favorites but feel overwhelmed by all the other new books coming out that our re-reads get put to the side. That is how we came up with this meme, we decided we don't want to put them aside anymore, so we will be taking turns putting up our reviews on the re-reads we do throughout the month. This does not mean we won't keep up with recent releases as well, it just means we will make more time for those we have read before as well.
__________________________________________________
So here is how this meme will work:
Each week the co-hosts will trade off with recapping when it is a re-read or what they have heard so far about the book and the other co-host will put up their review.
The participants can read anything that they remember reading in the past, or something that they have wanted to read that has been around for a while and just haven't gotten around to reading it yet for whatever reason.
Participants can decide if they want to recap the book before reading it or just put up a review of what they read.
Anyone can join in, just please link back to our blogs as well as add your name to the linky so we can hop around and see what everyone is reading.
Please put our banner on your post as well, so we all look the same!
We ask you kindly to follow BOTH of our blogs.
Most importantly remember to just have fun! :)
__________________________________________________
We will be pro
viding each week a linky that you will be able to also link your posts for us to view. All we ask is for you to put up our banner as well as a link back to
BOTH
hosts on your post.
__________________________________________________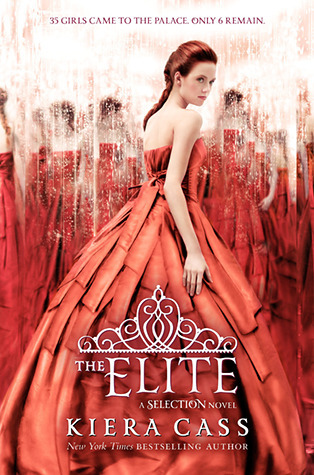 The Elite
Author:
Kiera Cass
Release Date:
April 23th, 2013
Publisher:
Harper Teen
Rating:
5 out of 5 Stars
Pages:
336
Format:
Hardcover, Bought
|
Goodreads
|
Amazon
|
Book Depository
|
Synopsis:

Thirty-five girls came to the palace to compete in the Selection. All but six have been sent home. And only one will get to marry Prince Maxon and be crowned princess of Illea.

America still isn't sure where her heart lies. When she's with Maxon, she's swept up in their new and breathless romance, and can't dream of being with anyone else. But whenever she sees Aspen standing guard around the palace, and is overcome with memories of the life they planned to share. With the group narrowed down to the Elite, the other girls are even more determined to win Maxon over—and time is running out for America to decide.

Just when America is sure she's made her choice, a devastating loss makes her question everything again. And while she's struggling to imagine her future, the violent rebels that are determined to overthrow the monarchy are growing stronger and their plans could destroy her chance at any kind of happy ending.
My Review:
This time around I found I enjoyed the book a lot more. The first time that I read this book, I found America to be really annoying. Her flipping back and forth drove me nuts. Now that I have re-read it and understood the first book a little more, I understood. I could feel her heart having trouble of who she wanted and she really was trying to figure it out, but sometimes it just got to be too much sometimes.
I've been in cases where I would rather just shut down and go down the easy route than put myself out there. Sometimes I would find myself not able to open up even when I wanted to. I didn't put myself in her shoes until this story. I wanted to get to know the story a little better, and I definitely got to this time around. I am now a supporter of America and can't wait to get started into the last book.
I like how Kiera keeps us guessing right til the end. One minute you think one guy has it, then the other guy finds a way to break through. Its nice to kind of hope for one ending, but know that it will be tough til the very end. It keeps you pulled into the story.
The attacks that happen in this story happen quite a bit. In the first book they were very small, but this next book, man do they happen often. I guessed early on what they were after, but it is nice to see I think I am on the right path. I can't wait to see how that is going to turn out in the last book.
This is definitely a book that you need to read more than once. I am used to reading books only once, but I've started re-reading them, and I have pulled so much more out of the book this time around. I am sure you all will, too. I missed so much when I first read it.
I love the characters in this book. Even the ones I hate. It is still nice to feel emotions while reading a book. When some characters would even be mentioned I would get angry. It isn't often when a book can pull strong emotions out of me. I feel incomplete until the book is over and I can come back to reality. Now I am off to read the next book so I can continue into the world of Illea.
__________________________________________________
We will be back next week with our review or recap!
What about you? What do you remember about the time that you read this book/series? Would you like to read it with us?
Be sure to leave your links below :)