This is a new weekly meme that Kristalyn over at The Sarcastic Palmtree and I, Amber at Paradise of Pages, came up with. We have been wanting to re-read some of our favorites but feel overwhelmed by all the other new books coming out that our re-reads get put to the side. That is how we came up with this meme, we decided we don't want to put them aside anymore, so we will be taking turns putting up our reviews on the re-reads we do throughout the month. This does not mean we won't keep up with recent releases as well, it just means we will make more time for those we have read before as well.
__________________________________________________
So here is how this meme will work:
Each week the co-hosts will trade off with recapping when it is a re-read or what they have heard so far about the book and the other co-host will put up their review.

The participants can read anything that they remember reading in the past, or something that they have wanted to read that has been around for a while and just haven't gotten around to reading it yet for whatever reason.
Participants can decide if they want to recap the book before reading it or just put up a review of what they read.
Anyone can join in, just please link back to our blogs as well as add your name to the linky so we can hop around and see what everyone is reading.
Please put our banner on your post as well, so we all look the same!
We ask you kindly to follow BOTH of our blogs.
Most importantly remember to just have fun! :)
__________________________________________________
We will be pro
viding each week a linky that you will be able to also link your posts for us to view. All we ask is for you to put up our banner as well as a link back to
BOTH
hosts on your post.
_______________________________________________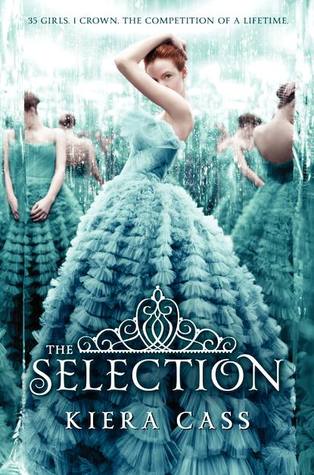 The Selection
Author:
Kiera Cass
Release Date:
April 24th, 2012
Publisher:
Harper Teen
Rating:
5 out of 5 Stars
Pages:
327
Format:
Paperback, Bought
| Goodreads | Amazon | Book Depository
|
Synopsis:
For thirty-five girls, the Selection is the chance of a lifetime. The opportunity to escape the life laid out for them since birth. To be swept up in a world of glittering gowns and priceless jewels. To live in a palace and compete for the heart of gorgeous Prince Maxon.
But for America Singer, being Selected is a nightmare. It means turning her back on her secret love with Aspen, who is a caste below her. Leaving her home to enter a fierce competition for a crown she doesn't want. Living in a palace that is constantly threatened by violent rebel attacks.
Then America meets Prince Maxon. Gradually, she starts to question all the plans she's made for herself—and realizes that the life she's always dreamed of may not compare to a future she never imagined.
My Review:
I wasn't sure how I would feel about this book the second time around. I read it about a year ago, so it wasn't too long since I last read it. I was thinking maybe I would remember a lot more than I did. I was mixing things that happened between this book and the second book.
I also was Team Aspen when I first started the book a year ago, now I am Team Maxon. I was slowly pushed to his side in the second book. So this was my first time reading it with a different guy I wanted her with. I found I didn't like Aspen from the start this time (big shocker). I knew what he ends up doing later on and that made it hard to like him even from the beginning.
This is a book that is hard to like characters that you know do something later on in the series. When I read it the first time I was better off with liking the characters individually and getting to know them a little bit. As I read this time, I just wasn't able to do that because I knew something happened later. Though I was able to put those characters aside and focus on Maxon more this time.
I followed him through the pages and go to know him a lot better than I did the first time. I also read the novella to the series, The Prince, so I was also in his head a bit to understand him even more. I liked that I read it first before the re-read because it made certain things make more sense.
I still gave this book 5 stars around this time, but I do know I was rushing through this book more. Since I had a more fresh mind of what happened, I was trying to rush through it all so I could get to the last book in the series. I loved the book even with all that. I just know I wanted to read it faster.
America didn't annoy me as much this time around. I know what she is going through a little better now so she didn't annoy me quite as much. Her indecisiveness when I read it the first time really wanted me to give up on it for a little bit. After I got to know her more when I read it the first time I understood. This time I understood from the beginning and I was able to focus more on her personality. She is a pretty wonderful girl and I can see why she has so many after her.
Maxon has my heart this time around for sure. The poor guy, even with being a prince, doesn't have the greatest life. He is lonely and it didn't seem that way the first time. I felt like America thought as well, that he was gonna be some stuck up guy with lots of money and a huge ego. He is the exact opposite. He does have a lot of money, but that doesn't make him who he is. In fact, you would have never guessed. I am so glad I got to re-read this and get to see who he really is.
I am going to wait a few years before I re-read this because I want to see how I will be years from now, if it will be like reading it for the first time. I want to see how my reacts will be with so much time in between. I read this a little too close to the last time, but I had to do it to make sure I remembered everything for the last book. I am glad I did. I still forgot certain things or mixed them between the books. Now I know for sure how everything happened :)
Couldn't Put It Down!!
____________________________________________
We will be back next week with our review or recap!
What about you? What do you remember about the time that you read this book/series? Would you like to read it with us?
Be sure to leave your links below :)