I have another TBR for you guys :)


I was able to read the whole Twilight Series this month. That was about all I got read though due to having to move. Packing and moving furniture really takes a lot more time than I thought it would.

This month I am going to do some re-reads as well as read some light contemporaries to get me back into the swing of reading in my new place.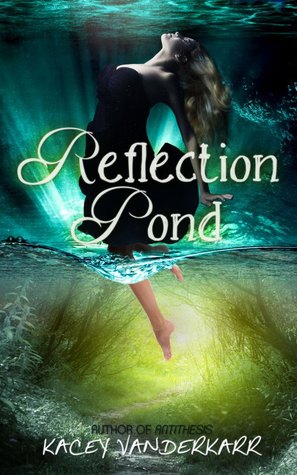 Reflection Pond
By: Kacey Vanderkarr
Sometimes you find home, sometimes it comes looking for you.
Callie knows a lot more about pain than she does about family. She's never belonged, at least, not until she falls through a portal into her true home. The beautiful faerie city of Eirensae doesn't come free. Callie must find her amulet and bind herself to the city, and most importantly, avoid the Fallen fae who seek her life. Seems like a small price to pay for the family she's always wanted.
Then she meets cynical and gorgeous Rowan, who reads the darkness of her past in her eyes. He becomes Callie's part-time protector and full-time pain in the ass. He has secrets of his own for Callie to unravel. What they don't know is that the future of Eirensae lies with them, and the once peaceful city is about to become a battleground for power.
By: Kiera Cass
For thirty-five girls, the Selection is the chance of a lifetime. The opportunity to escape the life laid out for them since birth. To be swept up in a world of glittering gowns and priceless jewels. To live in a palace and compete for the heart of gorgeous Prince Maxon.
But for America Singer, being Selected is a nightmare. It means turning her back on her secret love with Aspen, who is a caste below her. Leaving her home to enter a fierce competition for a crown she doesn't want. Living in a palace that is constantly threatened by violent rebel attacks.
Then America meets Prince Maxon. Gradually, she starts to question all the plans she's made for herself—and realizes that the life she's always dreamed of may not compare to a future she never imagined.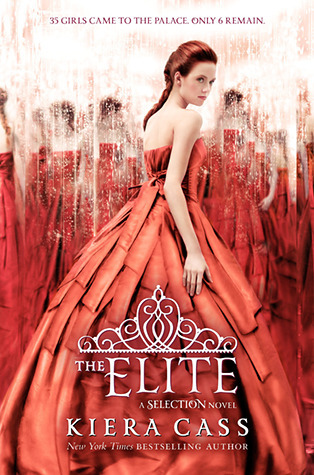 The Elite
By: Kiera Cass
| Goodreads | Amazon | Book Depository
|
Thirty-five girls came to the palace to compete in the Selection. All but six have been sent home. And only one will get to marry Prince Maxon and be crowned princess of Illea.
America still isn't sure where her heart lies. When she's with Maxon, she's swept up in their new and breathless romance, and can't dream of being with anyone else. But whenever she sees Aspen standing guard around the palace, and is overcome with memories of the life they planned to share. With the group narrowed down to the Elite, the other girls are even more determined to win Maxon over—and time is running out for America to decide.
Just when America is sure she's made her choice, a devastating loss makes her question everything again. And while she's struggling to imagine her future, the violent rebels that are determined to overthrow the monarchy are growing stronger and their plans could destroy her chance at any kind of happy ending.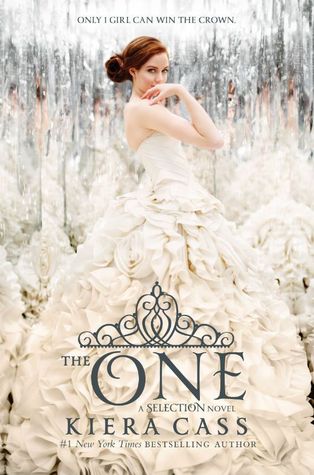 The One
By: Kiera Cass
| Goodreads | Amazon | Book Depository
|
The Selection changed the lives of thirty-five girls forever. And now, the time has come for one winner to be chosen.
America never dreamed she would find herself anywhere close to the crown—or to Prince Maxon's heart. But as the competition approaches its end and the threats outside the palace walls grow more vicious, America realizes just how much she stands to lose—and how hard she'll have to fight for the future she wants.
From the very first page of The Selection, this #1 New York Times bestselling series has captured readers' hearts and swept them away on a captivating journey... Now, in The One, Kiera Cass delivers a satisfying and unforgettable conclusion that will keep readers sighing over this electrifying fairy-tale long after the final page is turned.
The Selection Stories (The Prince & The Guard)
By: Kiera Cass
Two novellas set in the world of Kiera Cass's #1
New York Times
bestselling Selection series are now available in print for the first time.
The Prince
and
The Guard
both offer captivating views into the hearts and minds of the two men fighting to win America Singer's love. This collection also features exclusive bonus content, including a sneak peek at
The One
, the eagerly anticipated third novel in the Selection series.
Before America arrived at the palace to compete in the Selection, there was another girl in Prince Maxon's life.
The Prince
opens the week before the Selection begins and follows Maxon through the first day of the competition.
Raised as a Six, Aspen Leger never dreamed that he would find himself living in the palace as a member of the royal guard. In
The Guard
, readers get an inside look at Aspen's life within the palace walls—and the truth about a guard's world that America will never know.
TBR Book Jar Pick of the Month!
I wasn't able to read this book last month, so I am going to keep in on my TBR for this month!
Colie expects the worst when she's sent to spend the summer with her eccentric aunt Mira while her mother, queen of the television infomercial, tours Europe. Always an outcast -- first for being fat and then for being "easy" -- Colie has no friends at home and doesn't expect to find any in Colby, North Carolina. But then she lands a job at the Last Chance Cafe and meets fellow waitresses Morgan and Isabel, best friends with a loving yet volatile relationship. Wacky yet wise, Morgan and Isabel help Colie see herself in a new way and realize the potential that has been there all along.








___________________________
That's my May TBR! What's on all of yours?