______________________________________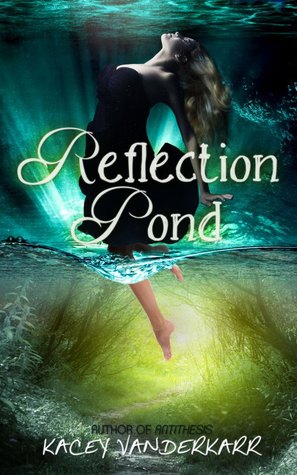 Reflection Pond
Author:
Kacey Vanderkarr
Release Date:
April 1st, 2014
Publisher:
Urban Fey Press
Rating:
4 out of 5 Stars
Pages:
242
Format:
e-book, received from author for an honest review
Tour Host:
Irresistible Reads Tours
Click Here
to see the rest of the Tour Schedule!
|
Goodreads
|
Amazon
|
Synopsis:
Sometimes you find home, sometimes it comes looking for you.
Callie knows a lot more about pain than she does about family. She's never belonged, at least, not until she falls through a portal into her true home. The beautiful faerie city of Eirensae doesn't come free. Callie must find her amulet and bind herself to the city, and most importantly, avoid the Fallen fae who seek her life. Seems like a small price to pay for the family she's always wanted.
Then she meets cynical and gorgeous Rowan, who reads the darkness of her past in her eyes. He becomes Callie's part-time protector and full-time pain in the ass. He has secrets of his own for Callie to unravel. What they don't know is that the future of Eirensae lies with them, and the once peaceful city is about to become a battleground for power.
My Review:
When I got the invite to be in this blog tour, all I could say at first was FAE!! I have a new book obsession with the Fae, so if I get asked to review anything with them in it or I come across a book in the store, I have to read it. So naturally, I said yes to this one right away. I am so glad I did.
As Callie runs from her life, she gets hit by a bike and sent into a pond. Little does Callie know that she is a Faerie, and a super powerful one at that. When she falls through the pond she goes straight through the portal into the city of Eirensae. She is confused and keeps waiting to wake up.....but she never does. Callie then has to spend her time finding out who she is and what she really wants to do. Does she want to stay in Eirensae or does she want to follow a different path?
I loved this book. It was nice to have a real backstory to Callie's life. You don't get to hear it directly, but you have your assumptions to what happened to her and why she is so hesitant to do anything physical with anyone else, including kissing. She is haunted by her past and towards the end tries to conquer her fears but it is very difficult.
Then there is Ash and Rowan. Ash is a redheaded Fae that is a teacher to all the newly brought back Fae. Rowan is the dark mysterious Fae that doesn't open up to anyone, but sometimes there is someone that comes along that you just can't keep out.
The characters are well developed. You are able to tell the different personalities and watch them grow within the pages. You can feel the ones that have had a hard life and are putting up a wall for everyone so they don't get hurt anymore. You also get the feeling that some of them are acting the way they do for selfish reasons instead of the reasons that they are claiming. It is refreshing to have a book that you can get sucked into the characters.
This book is mainly set in Eirensae, of course. You get some description of the place but not too much. I didn't mind so much because you get the descriptions in the parts that matter. You get to learn what some of the Fae really look like without a glamour on them.
The book was a little slow for me, not horribly but a little. I started the book thinking that this was a stand alone novel, but after I was around 75% into the book I knew there was no way that it would be wrapped up cleanly in just this one book. There is a lot that you are following in the pages but you find out that you won't have closure on really any of it until the next book. The book doesn't end in a spot that makes you mad though. The author does a good job on ending it just right to make sure you read the next book, but aren't angry until you do so. After I finished it, I looked it up to find out that there will be a second book, possibly more. Even though the book was a little slow, she still keeps your attention to the pages. I spent the times I couldn't read wishing I was able to be reading it. I wanted more of Callie and I wanted more of Rowan. Yes, I am team Rowan :)
This book is fantastic and I can't wait for the next book to come out. I love how the story follows most of the rules of the Fae from the other books that I have read. That similar rule pattern makes it easier to follow any of the Fae books. Anyone who is into a little bit of paranormal romance as well as suspense, this book is for you. Male or female, it doesn't matter, you will enjoy this book!
Loved It!!



_____________________________________________


About the Author


Kacey Vanderkarr is a young adult author. She dabbles in fantasy, romance, and sci-fi, complete with faeries, alternate realities, and the occasional plasma gun. She's known to be annoyingly optimistic and listen to music at the highest decibel. When she's not writing, she coaches winterguard and works as a sonographer. Kacey lives in Michigan, with her husband, son, crazy cats, and two bearded dragons.
Find Her Here:
Twitter
|
Website
|
Facebook
|
Goodreads