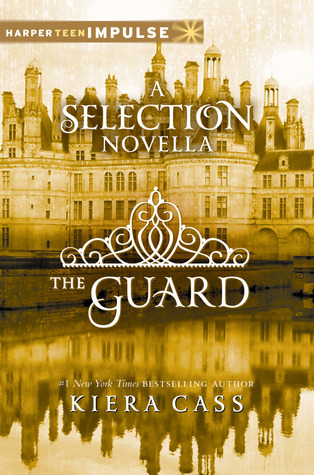 The Guard
Author:
Kiera Cass
Release Date:
February 4, 2014
Publisher:
Harper Teen
Rating:
5 out of 5 Stars
Pages:
90
Format:
Paperback bind up, bought
|
Goodreads
|
Amazon
|
Book Depository
|
Synopsis:
Before America Singer met Prince Maxon . . .
Before she entered the Selection . . .
She was in love with a boy named Aspen Leger.
Don't miss this digital original novella set in the captivating world of Kiera Cass's #1
New York Times
bestselling Selection trilogy. This brand new 64-page story begins just after the group of Selected girls is narrowed down to the Elite and is told from Aspen's point of view.
The Guard
also features a teaser to
The One
, the thrilling conclusion to The Selection trilogy.
My Review:
As I am a Maxon fan, I didn't think I would like this story, but I did. It is told from Aspen's point of view. You are able to get into his head a little bit and understand more than you did in the other stories. That being said, I am still a Maxon fan.
I find Aspen to be very selfish. The whole time he is trying to find ways to keep her in love with him, even when it can have horrible consequences. He is making America's life a mess instead of letting her heart decide on her own. The whole book seemed to be him thinking of America and how to keep her. I felt like he made the mistake in the first place and now he just needs to let it play out. If she picks him, she does, but he needs to let her be the one to pick.
Now that my rant is out of the way, I did like the way he treated the staff though. He went out of his way to be sweet to the maids and make them feel like they mattered. He does have a side of him that is very sweet and it makes you able to see why America fell in love with him in the first place.
The main reason that I liked the story wasn't for America at all, it was the reason that I got to see the behind the scenes. There were things that happened in The Elite that you wanted to know what happened away from America. This book helps you know a little more of what was happening. It was nice reading this book and being able to keep more into the story so I can go right into book 3 to devour it with all the details :)
Couldn't Put It Down!!